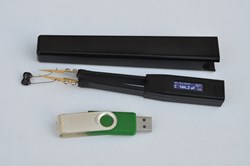 Toronto, Ontario (PRWEB) October 29, 2013
Canadian Siborg Systems Inc. and Sanata-Tech From St. Petersburg, Russia have agreed to join their efforts in marketing devices of Smart Tweezers LCR-meter family including the latest budget model LCR-Reader in quickly expanding Customs Union countries including Russia, Belarus and Kazakhstan.
Currently the Customs Union is expanding beyond the former Soviet Union countries, participation of India, Turkey and Siria are being considered. At a summit on October 29, 2013 held in Minsk, Russia, Belarus and Kazakhstan confirmed their intention to form the Eurasian Economic Union in 2015, on the basis of the Customs Union. Subsequently, Turkey, India, and even Syria could join this new alliance, according to the leaders.
Sanata-Tech is a supplier in Eastern Europe specializing in supplying soldering equipment (Hakko), electrical test equipment and workplace furniture and hand tools (Viking).
"Major portion of our clients are electronic companies dealing with Printed Circuit Boards (PCB)," says Natalia Petrova, CEO at Sanata-Tech, "Any person using soldering equipment finds Smart Tweezers LCR-meter very efficient in testing and characterization of Surface-Mount Devices and it is an indispensable tool for PCB debugging and repair."
LCR-Reader, a successor of Smart Tweezers LCR-meter ST-5, are designed for measuring SMD components as small as 0201 form-factor or about 0.3 mm size. This type of devices allow to measure in addition to the capacitance, equivalent series resistance (ESR) or dissipation factor D, in addition to inductance, resistance or Q. ST-5 LCR-meter can also be used for a continuity and diode test.
Now you have a choice of buying the original Smart Tweezers or LCR-Reader, a new budget model of a tweezer type LCR-meter. A summary of LCR-Reader and Smart Tweezers comparison of feature is avalaible in this Table. In a nut shell, the main difference is price, size and accuracy. Smart Tweezers ST-5 is a certified LCR-meter for professionals with a basic accuracy of 0.2%, supplied with a NIST Traceable Calibration Certificate. On the other hand, LCR-Reader outperforming previous models of Smart Tweezers ST-1 to ST-3. With a basic accuracy of 1%, price under $ 200 and weight of 1 Oz it is positioned as a consumer's choice LCR-Meter. It only uses 0.5 Vrms test signal thus limiting its application for ceramic capacitors. It is well known that test signal lower then 1 Vrms results in a underestimated capacitance values for ceramic capacitors, (e.g. see ST-2 User's Manual on p. 16).
The new model, LCR-Reader, is about two times lighter than previous Smart Tweezers models, and is powered by rechargeable Li-Ion battery. Its basic accuracy is about 1% which exceeds specs for models ST-1, ST-2 and ST-3. It has a simplified control by just one button that turns the device on and changes the operation mode.
The following features are abandoned compared to ST-5: component sorting, automatic offset correction,diode and continuity test. The most important drawback of LCR-Reader is the level of test signal which is 0.5 V rms that does not allow to use it for ceramic capacitors, similarly to ST-1, ST-2 and ST-3 it gives a lower capacitance value.
You may also watch a brief demonstration of LCR-Reader on Youtube.
A detailed comparison of features of the LCR-Reader and previous models is presented in this Smart Tweezers Comparison Table.
Feature Summary:

Manual and automatic measurement of L-C-R and ESR
Accuracy of about 1%
Automatic best range
Lithium-Ion rechargeable battery
Low weight of 1 oz (28 gramms)
For more information, please refer to Smart Tweezers Manual. Latest news are available in our Smart Tweezers Blog. For previous developments, please refer to Smart Tweezers Retrospective.
About Siborg Systems Inc:

Established in 1994, Siborg Systems Inc. is a source of engineering software and hardware tools for semiconductor and electronics industry. Located in the city of Waterloo, Ontario, Canada, it enjoys being part of the local world-renowned high-tech community.
About Sanata-Tech:

Established in 2009, Sanata-Tech supplies soldering and rework equipment (Hakko), electrical test equipment and office furniture and hand tools (Viking).
For more info, please contact:

Natalia Petrova, CEO

Sanata-Tech, Ltd.

22 Zvenigorodskaya Street, Unit 051

Tel.:+7 (812) 983-94-50, 917-85-84

Fax:+7 (812) 712-34-00

http://www.sanata-tech.ru/

Email:natalya(at)sanata-tech(dot)ru