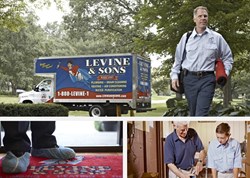 Detroit, Michigan (PRWEB) September 19, 2013
Metro-Detroit plumbing authority Levine & Sons has unveiled a new website enabling visitors to easily access rebates, service information and company updates.
The improved site is a testament not only to the professionalism that defines Levine & Sons, but also the company's dedication to provide the highest level of customer service.
Specific changes and improvements include:

Complete graphic and content redesign
Enhanced navigation and overall usability
Easy-to-use contact forms
Printable coupons and rebates
Detailed service descriptions
Green and eco-friendly information and services
Financing options
FAQ's
The changes to the Levine & Sons online presence are largely driven by customer feedback and are part of a strong commitment to deliver an enjoyable, hassle-free client experience whether it is online or in the home. Customers can now stay on top of the latest plumbing and HVAC services and updates in one convenient place, learn about the company history and why family owned is the way to go for quality customer service.
Founded in 1927, Levine & Sons remains driven to uphold and improve industry standards by continually growing and perfecting all areas of expertise.