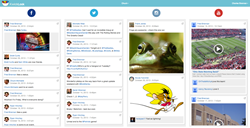 (PRWEB) November 25, 2013
Parents today have a new platform to help them view their children's social media activity, KwickLook.com announced today. KwickLook is the easiest and simplest way to know what your kids are saying online by providing a single dashboard showing your children's accounts on Facebook, Instagram, Twitter and YouTube.
"Parents today are the first generation responsible for their kid's online activities. They're also the busiest generation of parents with limited free time to monitor additional social media sites besides their own," says President and Founding Partner Chuck Chesler. "Many parents have a Facebook account and have friended their children. The reality is that most kids aren't even using Facebook for that exact reason," Chesler goes on to say. "KwickLook.com was created so parents today can have a single dashboard to quickly see what their children are saying and what other children are saying about them on Facebook, Instagram, Twitter and YouTube."
The reality is that almost all young teenagers are using at least one social media platform. In the past, parents' only option was to open an account on all those sites, friend their kids, and actively monitor those sites. Most parents have jobs, family, recreational activities, pay bills, and manage their own social media presence. This takes up a huge amount of time. Luckily, using KwickLook is incredibly simple and quick. It gives you a single view into your kid's social media activity; however, if you need to see more, simply click on a post and you can instantly view the content in more detail.
The American Academy of Pediatrics (AAP) recently released findings from a comprehensive study on the impact social media has on kids and families. Not surprising, social networking is on the rise and the study found that 22 percent of teenagers log onto their favorite social media sites more than 10 times a day.     According to a study by Professors at Brigham Young University in the US teenagers who are connected to their parents on social medial feel closer to them in real life. "It lets parents know what their kids are going through, what their friends think is cool or fun, and helps them feel more connected to their child," Sarah Coyne, the study's lead author and associate professor at the university's department of family life, says.
"Most parents do a great job teaching their children right from wrong, and most kids are great children. We also live in a constantly evolving world and are responsible for our children's online as well as offline activities. I just needed an easy way to take a quick glance at what my children were saying online and what other children were saying about them," says Chesler.
KwickLook.com was not created to monitor every portion of a child's computer time. Just a simple, quick glance at their social media activity to make sure that as a parent, you are comfortable with whom your children are interacting with and what they are posting.
KwickLook is free for the first 30 days and then only $ 2.99 per month regardless of how many children you wish to sign up.
Chuck Chesler has 2 children ages 13 and 11. In addition to running Strategy Sales Partners and playing music, he currently lectures at Central Connecticut State University on Entrepreneurship and Leadership and attended Harvard Business School's OPM 44 Program. Chesler is a board member of the CEO Roundtable and a mentor with Big Brothers Big Sisters of Southwestern CT.
About KwickLook:
Founded in 2013, KwickLook's mission is to provide parents with a simple way to view their children's social media activity. To learn more, please call KwickLook at +1 203-943-0943 or email us at info(at)kwicklook(dot)com.
Pages
Categories
Blogroll
Archive
Meta