iLuv Introduces Stylish and Unique Cases for the Launch of the New iPhone 5C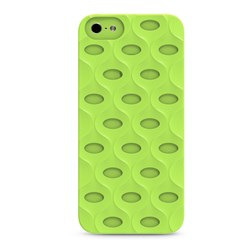 Port Washington, NY (PRWEB) September 10, 2013
iLuv Creative Technology, the premier provider of the most comprehensive line of accessories for the mobile lifestyle, announces today their new line of fashionable and protective cases for the anticipated launch of the iPhone 5C. iLuv's new line boasts cases for every mobile lifestyle and features protective designs that range from sleek and professional to creative and fun.
"Whenever Apple makes an announcement, consumers are eager to be among the first to get their hands on the new device," said Jason Park, Marketing Manager at iLuv. "And while they want to be among the first to own the device itself, they also want to dress it up and protect it with high-quality accessories that reflect their personal sense of style. We strive to be first-to-market with a complete lineup of stylish cases and useful accessories for the new iPhone 5C because even lower cost options for mobile devices like the iPhone 5C need to be ensured complete protection and ease-of-use."
The new line of iPhone 5C cases expands on the current line of cases by offering many of the classic iLuv designs everyone knows and loves while adding an abundance of fresh designs and styles.
New case and accessory designs include the following:
Vyneer

Dual material protection case

Polycarbonate shell with TPE frame around corners and edges
Translucent base shows off the iPhone's beauty
Soft TPE frame protects corners and edges from dings, scratches and dents
Wide opening in the bottom to accommodate all ports, and a variety of earphone plugs and cables
La Pedrera

Artistic 3D effect hardshell case

Antoni Gaudi inspired design
3D sculpted polycarbonate (PC) shell
Visual openings in case to allow device to shine through
Aurora Illusion

Glow-in-the-dark case

Find your iPhone in the dark
Playful pattern illuminates at night or in black light
Silicone case provides snug fit and protection
Laser-etched lightweight design with enhanced grip
Diary

Premium wallet case

Made with premium, PU leather
Two slots for credit cards
Polycarbonate interior shell securely holds iPhone
Superior 360-degree protection
Allows users to answer calls and keep the screen cover closed
Snoopy Series

Hardshell case

Playful, exclusive iLuv Peanuts® design
New designs featuring Snoopy's fashionable sister Belle
Super-sleek, customized fit provides direct access to iPhone controls
Durable hardshell construction
In-mold labeling graphics with smooth, coated finish
Pricing and Availability

iLuv's complete line of iPhone 5C Series cases and accessories are available at http://www.iLuv.com. Prices range from $ 9.99-$ 29.99.
Follow us on Twitter @iLuv_World, Facebook at iLuv Creative Technology, Instagram at iLuv_Creative_Technology, and Pinterest at iLuv Creative Technology.
About iLuv

iLuv Creative Technology, the premier provider of the most comprehensive line of accessories for Apple, Samsung and Smartphone devices, rapidly delivers products for today's discriminating consumers. Since inception, iLuv has amassed a total of 35 prestigious awards including 6 red dot product design awards, 4 prestigious iF Design Awards, 2 Good Design Awards, and 23 CES Innovation Awards. iLuv was also recognized with 1 Global iBrand Top 20 award. These awards serve as recognition for our innovative design and engineering across a range of mobile accessories, including headphones, adapters, speakers and chargers. Headquartered in New York, iLuv is a division of jWIN Electronics Corp., a leading consumer electronics company since 1997. All iLuv products are conceived, designed and developed in New York and continue to lead in quality, value, design and innovation. Learn more about our distinctive range of products and why iLuv means Innovative Lifestyle Unquestionable Value® at http://www.iLuv.com.
iLuv® and Innovative Lifestyle Unquestionable Value® trademarks are the exclusive properties of jWIN Electronics Corp. and are registered with the U.S. Patent and Trademark Office, and may be registered or pending registration in other countries. All other iLuv® trademarks, service marks, and logos may be registered or pending registration in the U.S. or in other countries. All other trademarks or registered trademarks are the property of their respective owners. © 2013 iLuv Creative Technology.