Family First Aid Kit for Holiday Stress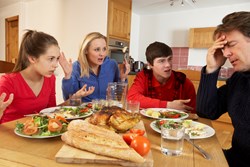 (PRWEB) November 13, 2013
Holiday time can be stressful for all relationships, and when family dinners meet family dynamics, things can spiral out of control. Holidays are supposed to be a time of fun, togetherness and love, but creating those lasting memories with Uncle Bob and Aunt Janet can be almost as challenging as bringing world peace to our planet.
Introducing the Family First Aid Kit for Holiday Stress by two-time Emmy Award Winning On-Air News Journalist and Licensed Marriage and Family therapist, Linda Nusbaum, LMFT. Linda is the founder of The Relationship Counseling Center and creator of Couple Mapping™, a process that instantly illuminates relationship problems and changes the way a person thinks and feel about another person in a 'couple' of minutes.
The Family First Aid Kit for Holiday Stress includes a small whiteboard and guidebook, as well as personalized Couple Mapping videos which are a series of stick figure drawings and symbols, narrated by Nusbaum. These images provide immediate clarity and understanding about oneself and the other person, along with steps to take to improve the relationship.
"All family problems start with two people trying to connect, so a 'couple' of people are at the core of every issue," says Linda Nusbaum, LMFT. "Therapy can take a long time and lots of effort. Couple Mapping can provide instant relief."
As an on-air news reporter, Linda condensed hours of footage into stories that lasted less than a couple of minutes. She now uses that same skill to distill what is happening in people's relationships by giving them a visual snapshot that can provide immediate relief. As a psychotherapist, Linda has helped thousands of people in her private practice by using her Couple Mapping technique. She has had so much success that she is now offering this life altering process to the public.
Couple Mapping Inc. develops and markets products and services worldwide to provide people instant relief with personal and business relationship challenges. Founded by Linda Nusbaum, LMFT — two-time Emmy Award winning on-air news journalist, licensed marriage and family therapist, and founder of The Relationship Counseling Center, Couple Mapping's premise is that relationship problems always start with a couple of people and can now be addressed in a couple of minutes. Couple Mapping™ has offices in Beverly Hills and Long Beach, California and is available to people worldwide from the privacy of their computer.