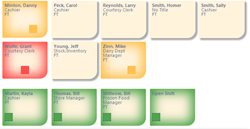 Westerville, Ohio (PRWEB) September 17, 2013
eWebSchedule, an industry leader in online employee scheduling, announced today it has added a new Drag and Drop Schedule editor as an alternative to schedule entry. eWebSchedule was founded with the goal of assisting employers with their staff scheduling. The frustration that engulfs many employers surrounding this task fueled the need for a better solution. Faster, easier, simplified staff scheduling was -- and remains -- the company mission. The most recent proof of this commitment is the Drag and Drop Schedule editor.
eWebSchedule's services are delivered through a cloud solution that makes deployment easy and affordable. It also resides in an environment that instantly communicates with your staff. Staff immediately receives their schedule, changes to their schedule and notices of open shifts through the website, text and email messages.
Engineers at eWebSchedule recognized that it's not just about the schedule. They created an integrated system that delivers all things related to the schedule under one umbrella. The service also manages employee availability, requests for time-off and shift trades. It is also customizable to reflect your organization and policy. eWebSchedule's employee scheduling service accomplishes universal employer goals.


    Quick and accurate schedule compilation
    Preventing unexpected gaps in shift coverage
    Eliminating over/under staffing
    Reducing, if not eliminating costly overtime
    Managing requests for time off
    Instantly keeping staff informed of their schedules and new business needs
eWebSchedule's latest breakthrough development is its Drag and Drop Schedule editor. This new feature significantly improves on an already user-friendly system. Here are a few examples:
Save even more time scheduling employees. This online, employee scheduling software can already save up to 25 percent of the time formerly spent on assembling the shift coverage puzzle. Drag and Drop schedule compilation further speeds the process and most likely will improve on the 25% benchmark.
Further improves schedule accuracy. Enhanced graphics of the Drag and Drop editor help HR and schedulers become even more accurate. Through color coding of the employee tiles, the scheduler can instantly see who is available and simply drag the employee tile to the schedule timeline. As the shifts are added to the timeline, the scheduler can quickly identify any shift gaps or over-scheduling issues, and fix these potential errors.
Frees up staff to concentrate on other issues. eWebSchedule's Drag and Drop schedule editor gives staff more time to focus on core business needs.
Make changes fast when needed. Employees who call off from work can create potentially dangerous shift coverage gaps. Its new Drag and Drop editor allows the scheduler to instantly identify available staff to cover a call off.
Cloud friendly. eWebSchedule is a cloud-based solution to employee scheduling, or some prefer the term Software as a Service (SaaS). The significance of the cloud solution is that it is easy to deploy, easy to implement and provides instant access to everyone in the organization; all with little or no investment in hardware. Any current device with internet access has access to the schedule.
Importance of Cloud Technology
The affordability of cloud service delivers to every organization what was once only available to organizations with large IT budgets and endless IT resources. Cloud solutions are highly cost-effective. A cloud solution eliminates the requirement for sophisticated servers and expensive staff to manage the hardware, database and software. As a subscriber to a cloud service, the investment is a low monthly cost that is based on what your organization utilizes. The cost for the expensive hardware and IT guru's is distributed and shared by the cloud subscribers. The result of a cloud service implementation is access to systems that were once considered unaffordable as well as time and money saved.
To learn more about eWebSchedule's cloud service visit its website at http://www.eWebSchedule.com. A trial period can be started by simply clicking the blue 'Get Started Now' button. If you prefer an online demo, contact eWebSchedule's staff by clicking the 'Contact Us' menu item and submit your request.