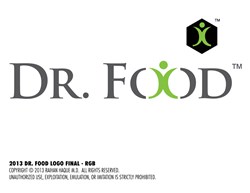 Irvine, CA (PRWEB) September 17, 2013
Dr. Food Corporation ("Dr. Food") today announced the launch of its new logo. The new logo is the result of an intensive brand development effort which the firm initiated several months ago. To develop the right icon the company worked closely with creative agency Rayhawk Corporation which presented over 70 design concepts.
The Dr. Food™ trademark is owned by Raihan Haque M.D. who is also the founder of Dr. Food Corporation. The trademark had not seen any significant design changes for over a decade and Dr. Haque wanted to give the brand a fresh look.
Towards the end of the project there were still 3 logo concepts in the running and each had very appealing attributes. Haque praised the designers who created the concepts, "The fact that I had some indecision in identifying the final logo is a testament to the amazing talent at Rayhawk. They gave me multiple options which all tested very well with our target audience."
Ultimately, Haque himself made the final selection and chose a logo which he felt was both distinctive and visual appealing. He explained his selection process, "When making an important decision like this, which I will have to live with for a while, I take everything into consideration. This includes carefully reviewing all of the feedback from both branding professionals and consumers who the brand is supposed to influence. But I've learned to never ignore my instincts, and in this case my instincts led me to the 'Jumping Jack' icon."
The new logo can be flexibly deployed by itself as a standalone icon or be seamlessly integrated into the brand name where it forms the center of the word "FOOD." The logo is composed of two semi-circles coming together to form the figure of a person who has a thin torso with arms and legs in a position which conveys that the individual is either doing jumping jacks or is raising both arms in triumph. A small dot placed on top of the body helps insure the icon will be interpreted as a person. The variable interpretation works because it conveys that (i) Dr. Food promotes healthier lifestyles which incorporate physical activity, and (ii) adopting the Dr. Food Lifestyle has allowed many people to overcome obesity and achieve weight loss success.
The font used in the new logo is Adobe's Trajan Pro. Trajan Pro was designed by Carol Twombly in 1989 and is based on classic Roman lettering. Dr. Haque selected the font because it communicates both elegance and strength.
Look for the new Dr. Food logo on various marketing initiatives and educational content. The logo is also featured in Rayhawk's branding reel, which showcases the top corporate identities created by the agency.
About Dr. Food™ Corporation
Dr. Food Corporation is a leader in weight loss, nutritional education, and digital fitness resources. Dr. Food's weight loss solutions help people rapidly achieve Meaningful Weight Loss™. Meaningful Weight Loss (http://www.meaningfulweightloss.com) is defined as a substantial and lasting reduction in weight which positively impacts well-being and quality of life by enabling people to maintain a healthy weight, adopt smart eating habits, and be physically active.
Dr. Food licenses its comprehensive set of weight loss resources to healthcare providers, consumers, and others interested in nutrition and fitness.
About Rayhawk® Corporation
Rayhawk is a world-class creative agency which provides advertising, branding, consulting, eLearning, informatics, online marketing, and software development services to a broad range of industries. Its development teams consist of brand managers, online strategists, animators, copywriters, graphic designers, web developers, and programmers. Together these professionals fuse creative thinking, technological know-how, and solid business principals to deliver amazing marketing solutions.
Rayhawk's dedication to explore new ideas and master the latest technologies is driven by a passionate pursuit to always break new ground. This passion has given Rayhawk the well-earned reputation for creating game-changing campaigns.
Find More Graphic Press Releases