CUE Announces Iron CUE Challengers for Fall CUE Conference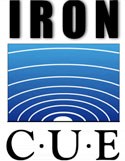 (PRWEB) October 23, 2013
Fall CUE 2013 Conference attendees will once again have the privilege of witnessing the ultimate ed tech competition: Iron CUE. Two brave and fearless educators, Nicole Dalesio and Kelly Kermode, will take the stage to determine whose masterpiece lesson will win the day.
Iron CUE is now in its fourth year at Fall CUE. Two ed tech experts are chosen before the conference and are introduced to the audience at the opening keynote. Each chooses two assistants from the audience to help him or her for the next 22 hours. Then, the mystery technology is unveiled. Whatever it is, the competitors must use it to produce a teachable lesson on a given topic. At the closing keynote, the competitors will present their lessons and the audience will vote. The best masterpiece lesson wins.
Iron CUE Champion Alice Keeler is coordinating the event and promises "the combined creative energy of these two ladies just might be enough to power the planet for the next year!"
Nicole Dalesio

Nicole is a California native and Pleasanton teacher whose specialty is creativity, technology, and education. Nicole teaches 4th grade as well as technology workshops for teachers, and is a community college iPhoneography instructor. She's an Apple Distinguished Educator, an Adobe Education Leader, a Google Certified Teacher, and a Sony Education Ambassador.
Kelly Kermode

Kelly is a high school teacher and yearbook adviser. She loves integrating technology so it makes life more challenging, creative, engaging and interactive. She is an Adobe Education Leader, Google Certified Teacher, and a CUE Lead Learner. Current learning goals include: animation, motion graphics, gamification, and JavaScript.
The sold-out Fall CUE Conference takes place October 25-26 at American Canyon High School in Napa Valley. Onsite registration is not available, however workshop and session information is available at http://www.fallcue.org and keynotes will be streamed. Follow the action at #fallcue.
# # #
About CUE

Ed Tech Professional Development is at the core of CUE's work. We are passionate believers in advancing student achievement through technology. By providing Ed Tech professional development to schools, districts, and local educators on the infusion of emerging technologies, we can help better prepare students for college and careers ahead. | http://www.cue.org
About the Fall CUE Conference

The Fall CUE Conference is a more intimate, focused conference than the annual CUE conference and provides educators with opportunities to share, collaborate and learn. CUE's first Fall Conference was held in 1980 and has featured a number of luminaries as keynotes over the years, including Hall Davidson, Michael Horn, Vicki Davis and the late Steve Jobs. | http://www.fallcue.org
Related Tech Press Releases