Competing on AMCs The Pitch: FunctionFox Customer Bee-line Communications Inc.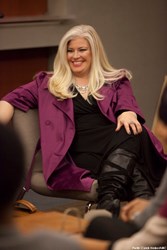 Victoria, BC (PRWEB) August 31, 2013
On September 12th at 10pm Central, FunctionFox customer Bee-line Communications Inc. will appear on AMCs unscripted television series The Pitch, a series that features some of North Americas top creative ad agencies in head-to-head competition to win new advertising accounts.
Bee-line is a global strategic marketing communications agency headquartered just outside Chicago. They have been using FunctionFox since 2010, and have come to rely on it. I couldnt run my business without it, says Stacey McClenathan, Bee-line founder and owner.
FunctionFox let us predict how participation in the show would affect our business, says McClenathan, We can track and predict productivity very accurately, so we were sure we would be able to scale up very quickly, and the solid historical data from FunctionFox, gave us confidence that we could handle current clients and new business, as well as taking on such a huge challenge.
Every FunctionFox customer has challenges and opportunities, says Corina Ludwig, president of FunctionFox, Because we come from an agency background ourselves, we understand what creative companies need and work with them as partners. FunctionFox gives customers of all sizes the power and knowledge they need to succeed.
To find out more about Bee-line, visit http://www.beecommunications.com/.
About FunctionFox

FunctionFox is the leading provider of time and project tracking software for small creative companies. TimeFox, its web-based timesheet and project management software, is the number one ranked time-tracking system in North America. Graphic design, advertising, communications, marketing, multimedia, public relations, and interactive firms all choose TimeFox as their web-based time and project management application. TimeFox is currently used by thousands of customers in Canada, the US, Europe, Asia, Australia and New Zealand.
For more information or to try a free demo of the product, please visit http://www.functionfox.com.
Related Graphic Press Releases