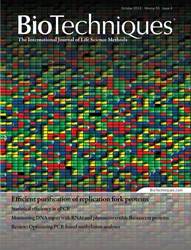 New York, NY (PRWEB) October 29, 2013
In celebration of the 30th anniversary of BioTechniques: The International Journal of Life Science Methods, the journal's publisher is pleased to announce the continued availability of monthly digital editions available for reading online and for downloading to an iPad or iPhone.
This latest issue includes the following articles:
"Optimizing methodologies for PCR-based DNA methylation analysis"
"Combining RNAi and in vivo confocal microscopy analysis of the photoconvertible fluorescent protein Dendra2 to study a DNA repair protein"
"A rapid and efficient method to purify proteins at replication forks under native conditions"
"The choice of reference gene affects statistical efficiency in quantitative PCR data analysis"
"Special News Features on: Targeting the tree of life and Sequencing Gems"
"A Tech News article on: Getting over qPCR's technical hurdles"
"A Troubleshooting Forum article on: High fidelity qPCR"
A BioTechniques Digital Spotlight Issue on PCR is also available featuring the following articles:
"Spotlight on PCR: Still the workhorse of the modern lab"
"Synthetic bio: expanding PCR's repertoire"
"How reliable is real-time PCR?"
Troubleshooting Forum: "5´ RACE"
"Construction of effective inverted repeat silencing constructs using sodium bisulfite treatment coupled with strand-specific PCR"
"A qPCR-based assay to quantify oxidized guanine and other FPG-sensitive base lesions within telomeric DNA"
"The use of melting curves as a novel approach for validation of real-time PCR instruments"
"Simultaneous multiple target detection in real-time loop-mediated isothermal amplification"
"Computation-assisted SiteFinding- PCR for isolating flanking sequence tags in rice"
Download the BioTechniques Mobile App for iPad and iPhone: https://itunes.apple.com/us/app/biotechniques/id495134628?mt=8
View BioTechniques digital editions online now: http://www.BioTechniques.com/Digital.
To be alerted when new issues are available online, or to receive the print edition of BioTechniques, subscribe today at: http://www.biotechniques.com/Subscribe.
About BioTechniques
BioTechniques, the international journal of life science methods, provides open access to first-quality, peer-reviewed papers on laboratory techniques and protocols. Now in its 55th volume, BioTechniques has over 80,000 print subscribers worldwide. The journal augments its peer-reviewed content with feature articles and topic-specific supplements. Visit http://www.biotechniques.com for more details or to subscribe.