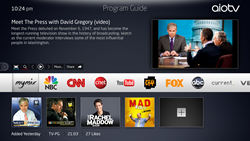 Denver, Colorado (PRWEB) October 22, 2013
aioTV, a global provider of OTT middleware, has announced opening of a new office in the Denver Tech Center. aioTV's new office will serve as the US corporate headquarters and will allow the company to expand development and customer implementation resources. aioTV will continue strong with existing operations in Halifax, Nova Scotia.
The new presence comes in response to MVPD and content owner's demand to deliver and control OTT content and IP services to the TV and across devices. aioTV enables the ability to deliver "Any Content, One Spot, Any Device".
"The opening of aioTV's Denver office is a natural outgrowth of the traction we are getting with customers and partners as they want to quickly and seamlessly aggregate multiple sources of content into a unified viewing experience across devices that is operator branded and controlled. We significantly minimize the traditional development challenges and capex costs associated with implementing this strategy," said Mike Earle, CEO, aioTV. "Denver's thriving video and technology market is the perfect location for customer collaboration."
aioTV's new office is located at 6000 Greenwood Plaza Blvd, Greenwood Village, CO 80111. Contact the office at 303-513-0107 or info(at)aio-tv(dot)com.
For more information about aioTV, visit http://www.aio-tv.com.
About aioTV

aioTV is a white label video platform for licensed and unlicensed content targeted at service providers worldwide to allow them to integrate multiple sources of live, on-demand and freely available video content into a unified TV experience across connected devices. The company's flagship products and cloud based management platform leverages existing infrastructure, billing platforms and DRM for a quick, seamless implementation.