VoIP Supply Announces Availability of New Microsoft Lync Optimized Polycom CX5100 Panoramic Video Conferencing Station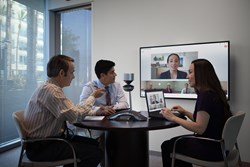 Buffalo, NY (PRWEB) September 19, 2013
VoIP Supply is announcing that the Microsoft Lync Optimized Polycom CX5100 Unified Conference Station will soon be available at VoIP Supply.
The Polycom CX5100 was unveiled at the 2013 Microsoft Worldwide Partner Conference and is scheduled to be available by the end of September 2013.
Microsoft Lync users collaborating with remote teams will enjoy a unique 360 degree, panoramic video experience with the CX5100 that also displays a seamless dual window layout.
The CX5100 was originally called the "Roundtable" because the device is placed in the center of a meeting room table and uses a number of cameras that stitch together a panoramic view displayed in one window while another window zooms in on the person who is talking.
Polycom's Active Speaker Detection automatically focuses on, and switches to, the person that is actively speaking.
A single camera limits what can be seen and done during a video conferencing call. The multiple cameras of the CX5100 follow the speaker wherever they move within the meeting room to produce an intuitive and naturally flowing conversation experience.
The CX5100 is the successor to the Polycom CX5000, which has the same engaging 360 degree view, but also offers:


More than twice the HD video image quality
Double the frame rate for life-like motion handling
Polycom HD Voice audio quality
1080p with Microsoft Lync 2013
720p backwards compatibility with Microsoft Lync 2010
The all-new user interface and system design makes the CX5100 easy to launch or join a call directly from the Lync user environment by simply connecting the CX5100 via USB to a computer that is running Lync.
"Polycom is the benchmark for reliable video conferencing," said VoIP Supply CEO, Ben Sayers. "Microsoft Lync Unified Communications has been greatly enhanced with the USB plug and play Polycom CX5100 that offers an outstanding HD panoramic video conferencing experience with cameras that automatically follow you around the room."
For Polycom CX5100 ordering information please call toll free 800-398-8647 or visit http://www.voipsupply.com/polycom-cx5100.
About VoIP Supply
We are a place of uncovering, cultivating and developing leaders. A world class place to work with big goals, a clear vision, defined purpose and a dedicated team of passionate business professionals. We love what we do and do it better than any of our competition.
Since 2002, VoIP Supply has been the leading supplier of VoIP equipment and complete VoIP solutions in North America. We are known in the industry as responsive and knowledgeable VoIP product experts.
With everything you need for VoIP, VoIP Supply has grown rapidly throughout the years. VoIP Supply is a three-time Inc. 500/5000 honoree, listed by Business First as one of WNYs Most Admired Companies, as well as one of Western New York's Best Places to Work for many consecutive years, including 2012. VoIP Supply is also the first Certified B Corporation in Western New York.