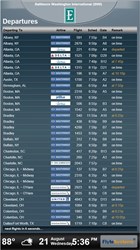 Chicago, IL (PRWEB) August 27, 2013
Flyte Systems, the leading provider of airport travel information displays and digital signage content for the hospitality industry, digital signage, convention centers and related businesses, announced the Embassy Suites Baltimore Downtown installed its FlyteBoard airline schedule display. FlyteBoard gives guests accurate, real-time airline flight information for travel confidence that keeps them comfortably on property longer. Click here to request information on Flyte Systems' airport travel and guest information services.
Flyte Systems services add value to properties

Flyte Systems FlyteBoard and other travel services add considerable value to our properties by providing confidence and convenience to guests, said Craig Strickler, Kokua Hospitality LLCs vice president of transitions & standards. Kokua operates the Embassy Suites Baltimore Downtown. Kokua installs FlyteBoard and FlytePass boarding pass printing at its properties to maximize peace of mind for airport-bound guests. Flyte Systems services are a unique amenity that guests do not expect, but really love. FlyteBoard shows accurate departures, arrivals, gate information, and delays so guests can remain at the property until their flight is ready. Flyte Systems is the only full service flight information display solution that provides real-time airline flight information.
Flyte Systems launches InfoBoard total travel information center

Strickler noted that Flyte Systems is launching a new guest service display called InfoBoard that provides a full spectrum of travel and property information. I used InfoBoard at a recent tradeshow and liked it. It is a five-foot high touch screen display with icons guests touch to see flight times, property transportation services, and view property events and maps. They can also check out local eateries and entertainment, and see weather, traffic, and news.
InfoBoard is an attractive cost effective, interactive touch screen display that saves labor, provides greater guest service, and generates revenue. InfoBoard provides: