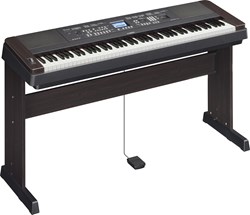 Buena Park, CA (PRWEB) July 16, 2013
Yamaha introduced its new DGX-650, a Portable Grand digital piano that is ideal for piano students and hobbyists of all ages. This entertaining alternative to an acoustic upright piano offers several features that make learning and playing piano more fun than ever, including upgraded piano sound and CD-quality audio recording and playback, as well as the ability to play chords with a single keystroke and interactive software that helps players quickly learn songs of their favorite artists from many genres. It includes a stand and a sustain footswitch, and is available in two attractive finishes: black with rosewood side panels or spotlight white.
The DGX-650 has category-leading touch and tone with PureCF sampling, which integrates the authentic sounds from the critically acclaimed nine-foot Yamaha CFIIIS Grand Piano into this powerful portable keyboard. Yamahas Graded Hammer Standard action provides the natural touch response of a full-size grand piano -- the lower keys are heavier and the higher keys become gradually lighter through the different registers. Extra-large, front-facing speakers provide a full and rich room-filling presence.
The DGX-650 is an ensemble digital piano that is ready to be enjoyed by a wide range of aspiring pianists, from those looking to learn and grow their musical abilities to those who may want the experience of playing with a band, said Dane Madsen, Yamaha Digital Piano Marketing Manager. Players of all abilities will appreciate the comprehensive learning features, great sound and connectivity that make it possible to easily share performances with friends and relatives.
The DGX-650s XG song file compatibility and optional You Are the Artist series songbooks allow players to learn and play along with recordings of their favorite songs made popular by artists like Taylor Swift, Coldplay, Adele, Johnny Cash and more. With this special collection of piano songbooks and play-along recordings, piano music can be experienced in several ways. The piano part of a song can be played on the DGX-650s keyboard while XG song files play all of the backing band parts. Songs can be slowed down to allow players to practice at a comfortable tempo before speeding up when theyre ready. Players can even practice one hand while the DGX-650 plays the other. You Are the Artist series songbooks and XG song files can be purchased at yamahamusicsoft.com/xg or any authorized Hal Leonard music retailer.
Sharing music is now easier than ever with new USB audio recording capabilities. CD-quality audio recordings of performances can be loaded onto computer and emailed to a friend, posted as a video on YouTube or simply transferred to an iPod.
The DGX-650 has many key features that intuitively assist beginners and novices in expressing themselves musically. Smart Chord mode enables major and minor chords to be played with just one key and is suitable for a variety of genres. For example, when playing a jazz song, players can automatically create complex 7th and 9th chords. When playing pop music, simpler three-note chords can be created. With Smart Chord, these instant four and five-note harmonies are now possible with a single finger.
A stereo 3.5mm AUX line input enables external audio devices to take advantage of the DGX-650 speaker system and offers another way aspiring artists can play along with their favorite songs stored on iPods, CD players or computers.
Pages
Categories
Blogroll
Archive
Meta