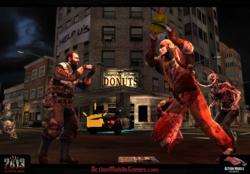 Austin, TX (PRWEB) May 31, 2013
June is shaping up to be a AAA zombie apocalypse month in Apple's iTunes Store - which game will be victorious? Two much anticipated mobile games for the iPhone, iPad, and iPod will be going head to head in Apples iTunes games market. Rarely do you have two AAA games being released so close together in the same genre. This may spell doom for the developers but fans of the zombie genre will surely be pleased.
In one corner you have Austin, TX based Action Mobile Games releasing 2013: Infected Wars in June. 2013: Infected Wars is the first ever full co-op action horror game for mobile devices. Displaying cutting edge graphics more familiar to console and pc gamers than mobile devices, James Petty President of Action Mobile Games says, We want to bridge the gap between the gaming experience console and pc game players have enjoyed for many years and bring that to mobile gamers by pushing Apples devices to their limits.
Many mobile games offer the ability to play with friends in limited game modes but surprisingly no mobile game studio until now has invested the time and resources to create a full co-op campaign like with 2013: Infected Wars. When asked if he thinks the mobile market will reward such a huge development risk James Petty says, I believe the mobile gaming community will show their support for a true co-op game experience with our feature set in such a fun genre, making our two years of development worth it in the end.
2013: Infected Wars Boasts Many Features Such As: