WESTEC 2013 Returns to California Amidst Promising Manufacturing Climate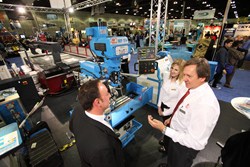 Los Angeles, CA (PRWEB) July 31, 2013
WESTEC, the premier West Coast manufacturing event, returns to California amidst an encouraging environment that has seen a measurable increase in exports, production, overall employment growth, and recent legislation designed to enhanced the states manufacturing sector. While California has long been the nations leading industrial state, recent economic gains have been powered by new technologies, many of which will be on display at WESTEC at the Los Angeles Convention Center from October 15-17.
Produced by SME, WESTEC has built a reputation as the West Coasts leading technological showcase for the manufacturing industry for nearly 50 years. Generations of manufacturers have used the event as a forum to find cutting-edge equipment, explore advanced technologies, and learn innovative new production methods to help grow their businesses. Many of the industrys top equipment manufacturers unveil technological breakthroughs at WESTEC from software to cutting tools, 3D printers to multi-tasking machines.
According to the latest UCLA Anderson Forecast, California is one of the bright spots in the U.S. economic picture. For the 12 months ending April 2013, California had the second highest employment growth in the nation. The Forecast also reported that the economys strength was built within the technology and knowledge-laden sectors, which accounted for more than half the job growth in the state. California also showed strong growth of total direct exports of goods, which now account for 8.1 percent of GDP. Manufactured computers and electronics account for 30 percent of that total.
The manufacturing industry will also benefit from the implementation of recently passed legislation. Earlier this month, California signed into law a future sales tax exemption on manufacturing equipment. This brings the state in line with the 48 other states that exempt manufacturing equipment from sales and use tax. Recent anecdotal news has also been encouraging. Several manufacturers, such as Boeing, BYD and Ecologic Brands, all opened or announced increased manufacturing programs or facilities within the state.
We are greatly encouraged by recent developments in California, which has seen an uptick in manufacturing and production. said Christine Longroy, WESTEC event manager. The economic climate is one of the reasons why we decided to move WESTEC up from March 2014 to October 2013.
For more information and to register for WESTEC 2013, visit http://www.westeconline.com.
About WESTEC: WESTEC, the regions definitive manufacturing event, returns to the Los Angeles Convention Center fall 2013. The three-day event provides access to the latest technologies, equipment, and products from the industrys leading innovators. Products and technology are highlighted through interactive exhibits, education and networking.
About SME

SME advances manufacturing and attracts future generations through its strategic areas of events, media, membership, training & development and the SME Education Foundation. A 501(c)3 organization, SME has been gathering, validating and sharing manufacturing knowledge for more than 80 years. SME Making the future. Together.
Find More Computer Press Releases