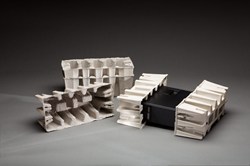 Clinton, Iowa (PRWEB) August 08, 2013
For 20 years, UFP Technologies, Inc. has designed and manufactured custom molded fiber packaging products for customers across North America and Europe. Founded in Westbrook, Maine in the Fall of 1990, the company (then known as Moulded Fibre Technologies) was a pioneer in transforming the technology used to create egg cartons into a viable protective packaging medium for light industrial goods, consumer electronics, and health and beauty products. In 1993 Moulded Fibre Technologies was acquired by UFP (founded in 1963), and subsequently UFP Technologies, Inc. went public trading on the NASDAQ (UFPT).
Molded fiber packaging is made from 100% recycled newspaper which is pulped into a slurry with water. The slurry is then formed into the final packaging parts. The end result is a 100% recyclable protective packaging product that is environmentally friendly and can be placed into curb-side recycling bins. Since the material has always been recycled newspaper, UFP Technologies has been able support the growing sentiment and initiatives by consumers and U.S. companies alike about the importance of recyclability in packaging.
Over the past 20 years UFP Technologies has grown into the largest manufacturer of custom designed molded fiber interior protective packaging in North America. By remaining at the forefront of technologies such as hot-pressing (providing a smooth finish to packaging parts for a more aesthetically pleasing presentation), continuously improving manufacturing operations to allow for smaller and more practical runs by its customers, and sophisticated designs by highly skilled packaging engineers to protect fragile products such as personal computers weighing over 30lbs, UFP Technologies has become a trusted leader in this industry. UFP Technologies has also introduced complimentary services and products from its molded fiber packaging operations such as environmentally friendly color additives to match a customers brand, and a line of protective packaging products for wine bottles, WinePacks