TeleProviders and Nuvalo Co-author "7 Criteria for Sourcing Colocation" for Channel Partners Online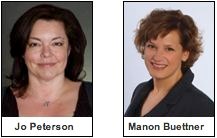 Laguna Hills, CA. and Bellevue, WA (PRWEB) July 31, 2013
While cloud computing may seem to be getting all the attention today, a number of enterprise organizations are turning to data center colocation as an outsourcing alternative. To help telecommunications channel partners understand the intricacies of selling colocation, TeleProviders Director of Converged Cloud and Data Services Jo Peterson and Nuvalo Principal Manon Buettner have published a colocation sourcing primer in their article, 7 Criteria for Sourcing Colocation, in Channel Partners Online publication.
The authors present seven key service areas to be scrutinized before customers sign a colocation contract. As data center experts, Peterson and Buettner developed these criteria while successfully procuring data center services for their own clients, which span across the health care, retail, financial services and technology sectors.
"Data centers come in all shapes and sizes. The market is saturated with carriers, hosting providers and real estate investment trusts (REITs) competing for retail colocation clients," according to the authors. "Businesses are turning to channel partners like you to guide them and validate their metrics in this crowded space. This article offers some pointers to increase your confidence in tackling these conversations."
The article dissects key areas to examine in the due diligence phase including a data centers financial health, geographic location, infrastructure, security, power, network connectivity, and service and support. Organizations considering colocation and the agent community can use this article as an insightful checklist while shopping for data center colocation services.
About TeleProviders
TeleProviders Inc. is a communications and technology consulting and co-sourcing firm that works with organizations to help architect and purchase business-related technology solutions ranging from phone/wireless/mobility to data center, cloud and IT services. We are a company that grew up in the telecommunications age and has evolved to become our clients trusted advisor delivering enterprise technology expertise. As a value-added broker, we find the best solutions for your companys technology needs while giving you an insiders view of carriers and technology partners. Were honored to be on the Inc. 5000 Fastest Growing Private Companies in 2009, 2010 and 2012. For more information, please visit us online at teleproviders.com.
About Nuvalo
Nuvalo simplifies cloud migration by assisting enterprise IT organizations identify, evaluate, negotiate and manage their ideal provider relationships. A global consulting and brokerage firm, Nuvalo designs and procures solutions best suited for each clients unique business and operational needs. Whether its optimizing colocation builds, mapping migrations to emerging cloud technologies, or simply sourcing IT services, Nuvalo advocates for you to secure the ideal solution and contract. With todays focus on moving from CapEx to OpEx models, while also maximizing business and operational efficiencies, Nuvalo leverages its perspective, technical expertise, market intelligence and in-depth provider relationships to facilitate a more efficient search and negotiation process than companies traditionally employ. For more information, visit nuvalo.com.