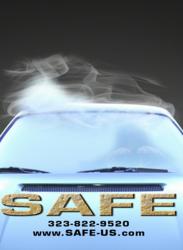 LOS ANGELES, CALIFORNIA (PRWEB) May 30, 2013
Fast cars and luxury automobiles. They capture our hearts and command respect, but lets face it. They come at a priceand sometimes risk. With the groundbreaking introduction of the SAFE Car, consumers can now protect their wheels, and, more importantly, whats inside, in ways never thought possible.
The new SAFE Car, developed by SAFE (Strategically Armored and Fortified Environments, http://www.safe-us.com), the leader in next generation custom security solutions, provides owners with an unprecedented level of control, convenience, safety and security that is in keeping with the newest lifestyle and technological capabilities.
SAFE, based in L.A. and founded by security industry icon Al Corbi, began developing a prototype for the SAFE Car, an advanced automotive security solution, as a natural extension for its clients security needs. The car is designed to allow owners to maintain complete control of their residential or other properties while on the go. The SAFE Car offers secure features that can be controlled by the owner from any locationin the air and on the groundand is the first of its kind to offer real-time contact and communications with the vehicle. The cars Situational Awareness and Control (SAC) system from SAFE, links audio, video and mechanical systems seamlessly to protect itself and its owners/occupants with manual or pre-programmed features.
To showcase the SAFE Car features, SAFE produced a short dramatization video titled "Good Decisions," revealing an up close and personal view of the cars cutting edge safety and security features.
An integrated security solution, the SAFE Car is a fusion of biometric and analytic technologies, including facial recognition, behavior analysis, voice recognition, LPR, RFID and more, typically used in residential and commercial projects. SAFE Cars are essentially roaming Wi-Fi hotspots that afford their owners unprecedented access to the vehicle and its functions. Most importantly, SAFE Cars provide owners the peace of mind that comes from knowing their car can not be stolen and knowing they can maintain complete control of their car, their home or other properties worldwide in real-time. The SAFE Car keeps its owner in total control. It lets the owner know who is in the car, where it is, how fast it is traveling, and much more. Authorized users can stop the car remotely, enable or deactivate door and trunk locks, even send blasts of smoke into the interior to subdue an unwelcome intruder.
Although the technology and equipment in the car is seamless to the eye, the SAFE Car delivers the ultimate in automotive security and controls with features that include:
Interface with residential security systems, providing a fully integrated system with the security features and functions in any home, office, airplane or yacht.
Facial and voice recognition of both driver and passenger allowing the owner to view, in real-time, the interior of the car and its occupants from anywhere in the world. Camera views outside of the car recognize and record other vehicle license plates and help identify location and intruders.
Remote notification including images and time/date stamps of anyone other than those authorized to have unrestricted access.
Remote 1- or 2-way visual communication, remote 2-way voice communication, and remote door latch and unlatch, using an integrated, Internet-based secure tablet and barcoded license plate/back-up camera.
Remote trunk unlatch allowing quick escape or access.
Remote engine starting and stopping activation and deactivation through facial recognition.
Onboard Diagnostics, Global Positioning System (GPS) & Radar Detection featuring two graphic user interfaces (GUI), onboard and remote. The onboard GUI utilizes a secure tablet deployed from the dash when activated by the biometric palm reader in the center console.
The SAFE car is sold exclusively by SAFE. The SAFE Car design is not manufacture-specific and can be custom-designed by SAFE to be compatible with virtually all vehicle makes and models. SAFE will exclusively customize, manufacture and install the SAFE Car features.
When it comes time to purchase a new car or retrofit that old classic, "Good Decisions shows just how cool security can be.
So, take control. Make it a next-generation SAFE car.
About SAFE: SAFE (Strategically Armored and Fortified Environments, http://www.safe-us.com) is a unique provider of custom security solutions that are architecturally based, aesthetically discreet and completely scalable for homes, automobiles, offices and super yachts. SAFE's systems do not rely on any of the traditional security measures such as alarms or guards. Instead, SAFE systems keep their clients in control at all times, while providing a predictable and reliable level of protection that is fail-safe for both natural and man-made threats. SAFE is a world leader in the field of security through the master integration of both high and low tech features including hardening, surveillance, detection, deterrence as well as nuclear, biological, chemical and electromagnetic pulse (NBCE) protection. All SAFE products are meticulously and seamlessly imbedded into even the most sophisticated interiors. SAFE helps its clients achieve the peace of mind that can only come from careful planning and preparation. SAFEs uncompromising solutions include full integration through SAFEs Situational Awareness and Control (SAC) system. This proprietary system includes custom software for each client, adding secure access, control and convenience. Beyond hardening and other security features, the SAC system allows the client to interact with and control their security from the property or from the other side of the globe. For more information, visit http://www.safe-us.com.