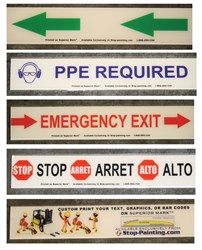 Wake Forest, NC (PRWEB) May 21, 2013
Stop-Painting.com is proud to announce their newest Custom Printed option to their Superior Mark industrial floor marking tape line. This new addition to the already innovative floor marking system delivers unlimited possibilities to customers in the industrial community.
Insite Solutions, the managing company for Stop-Painting.com, strives to provide the most innovative designs in floor marking with Superior Marks beveled edge, recessed adhesive, and color schemes. The Superior Mark is one of the most durable floor marking systems on the market. The industrial design has been strategically engineered with a beveled edge that is 32 mils thick to prevent damage and it also increases the longevity of the product. The Superior Mark is designed to withstand heavy traffic and outlast paint.
According to Insite Solutions Managing Director Cliff Lowe, the Custom Printed floor tape is truly a great new advancement to the companys already successful floor lining product.
This new customizable option to the Superior Mark will allow for custom printing in different languages and even gives the option for printing actual photos to instructional graphics, Lowe said. This is really a great way to advance a workplace to a higher standard of excellence when it comes to safety and productivity effectiveness.
Now with the ability to customize the Superior Mark, management can create a safer workplace for employees by properly identifying exits, pedestrian ways, floor directional paths, and safety zones. This custom-option is especially attractive to Lean Manufacturing and 5S System workplace environments that are raising the bar for advanced work efficiency. These programs rely specifically on floor markings and the customizable options of the Superior Mark will help simplify these programs even more.
There are other options in custom printing that requires vinyl decal placement. These decals have a tendency to peel and will not last nearly as long as the Superior Mark custom option. Vinyl decal installation can be more difficult and often times require a trained specialist. The installation of a Custom Printed Superior Mark is as simple as removal of the adhesive back and placing in the desired location.
Custom printing is also a great option when it comes to labeling product locations in a warehouse and product barcodes can even be printed on the Superior Mark. This could be a very beneficial option when dealing with location of specific products and warehouse organization.
The Custom Printed Superior Mark floor tape is a great option and we are so excited to be able to offer it to the market at this time, Lowe said.
More information on the Custom Printed Superior Mark can be found by visiting http://www.stop-painting.com or by visiting the product video by calling a Customer Service Representative at 1-866-284-1541.