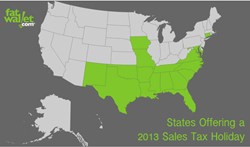 Beloit, WI (PRWEB) July 24, 2013
FatWallet provides mid-summer and back-to-school shoppers with a comprehensive guide for all states participating in Tax Free Holiday weekends. This annual, limited sales tax exempt shopping event gives parents, students, teachers and most other consumers a prime opportunity to save additional money on a wide variety of products for school, home and work. The Tax Free Holiday Weekend Guide features information for Texas, Florida, Georgia, North Carolina and 13 other participating states, including:


Schedules for each states event (majority runs August 2-4)
Links to a list of each states exempt and taxable items
Links to each states sales and use tax information
Overview of main exempt categories and item spending limits
Smart shoppers and FatWallet members recognize tax free weekends, back to school sales events and storewide summer clearance sales as an opportunity to stack savings on a variety of products, including furniture (for both home and office), cooking/kitchen, women's clothing, eyewear, cosmetics, luggage and tech (electronics, smartphones, laptops, tablets and computers). FatWallets Fun In The Sun Deals adds another level to summer savings on cameras, pools, bikes and a wide assortment of sports and outdoor products. Dozens of retailers will offer increased cash back during the Fun In The Sun promotion for shoppers who make purchases through FatWallet July 23-29.
Shoppers normally think of back to school as a time to save on just school related purchases, stated FatWallet spokesperson, Brent Shelton. However, this is one of the best times of year to apply these same significant savings towards needs for both home and office.
_____________

About FatWallet: As the preferred online shopping resource for millions of smart consumers, FatWallet.com works closely with 1,500+ retailers like Dell, Kohl's, Walmart and Amazon to publish special offers, discounts, coupon codes and Cash Back rewards to its members. The much celebrated FatWallet forums represent the pulse of an evolving online marketplace where smart consumers gather to share and learn. FatWallet is owned by Performance Marketing Brands (PMB) who owns and operates the world's most rewarding shopping programs. Through its family of distinct websites and reward programs, PMB users can get a great deal and earn money back every time they shop. PMB shoppers are expected to spend over $ 2 billion through PMB's websites and shopping programs.