PureVPN now Accepts BitCoin | More anonymity for the users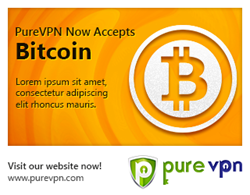 Hong Kong (PRWEB UK) 24 July 2013
Recently, Bitcoin has become the source to be reckoned with in the tech industry. It is becoming increasingly common to see online venders, who are keen to tap in on the buzz associated with the Bitcoin community, accept Bitcoin payments. With regard to VPN this is particularly important as Bitcoin allows for anonymous transactions, and anonymity is a VPNs soul and heart. PureVPN, as an innovator in providing anonymous VPN services, when saw that Bitcoins became an alternative to traditional methods of payment, PureVPN right away embrace the technology and includes Bitcoin in its payment method. http://www.purevpn.com/order/
What Bitcoin is meant for?

It is an obvious fact that a VPN service user cannot remain completely anonymous while the VPN provider has all the payment information of its customers. Therefore, the ability to pay for VPN services via an anonymous digital currency such as BitCoin, has become the basic need. The acceptance of Bitcoin is regarded as a very good indicator of a VPNs commitment to its users online privacy and security.
BitCoin is an anonymous online payment method that offers the use of digital currency for transactions and sets you free from hassles of verifications from the bank. BitCoin currency neither exists in the physical world, nor does it have a central bank. Created initially as an open source project by Satoshi Nakamoto in 2009, it works on peer-to-peer technology and is operated in a decentralized mode, without the control of any central authority.
Since the software to mine and use Bitcoins is free, so there is no cost to join the system and no built-in transaction fees. BitCoin saves users time and also saves user from the hassles of verification from banks like you need to do in case of credit card and other methods.
PureVPN is worthy of its name, as it displays a dedication to privacy that lies at the heart of what a VPN is for. If you are anonymity seeker then as a customer paying by Bitcoin for PureVPN subscription, you can all but guarantee that your internet tracks will be all untraceable, something which may be of life saving importance. PureVPN provides a good core service that is dedicated to maintaining their clients privacy and security to its outmost level. Moreover, now users have more options by which they can pay for PureVPN services. Since there are restrictions imposed in many countries on PayPal like Middle East, BitCoin is a new way for users to pay for the excellent VPN services of PureVPN.
About PureVPN:
PureVPN is founded and operated by Hong Kong based GZ system Ltd. Formed in 2007, PureVPN has been taking care of a vast clientele from 150+ countries since then. Its mission revolves around online security, freedom, privacy and anonymity. PureVPN has stamped its name in the VPN industry because of its dynamic self-managed gigabit network. Unique features and service innovation is an ongoing process at PureVPN.