ONE Launches Protest Music Inspired Interactive Experience Built By F#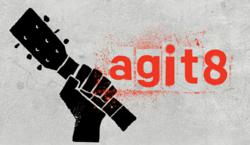 NEW YORK (PRWEB) June 11, 2013
The ONE Campaign, a global advocacy organization acting to end extreme poverty, and F#, the leader in music-powered digital ad experiences, today launched the agit8 digital experience, allowing people from around the world to listen and share protest music. The agit8 site accompanies the agit8 campaign, a music experience designed to create noise in the crucial week leading up to the G8 conference in Northern Ireland both online and in pop up performances happening in London.
Visitors to one.org/protestsongs will find a diverse array of artists putting their own spin on classic protest songs. The site includes video performances from internationally-known artists to street buskers, and gives users the opportunity to add their voice to the fight against extreme poverty. Artists include Ed Sheeran, Mumford and Sons, Elvis Costello, Angelique Kidjo, Rokia Traore, Green Day and Macklemore & Ryan Lewis, among others. The microsite also combines user-generated content, curated playlists, lyric graphic creation, a photo gallery and a contest to vote for your favorite cover of a classic protest song.
Protest Playlists
ONE.org collaborated with its members to create one of the worlds most comprehensive playlists of protest music. Comprised of songs in the categories of anti-apartheid, anti-war, civil rights, anti-poverty, womens rights and more, users can listen to the songs via Spotify.
F# built the interactive playlist to educate as well as entertain, providing in-depth background information for each song. Users can easily discover the history of the track, its writers, artist, and lyrics. A video featuring live performances of the song and a collection of alternate performances complete the experience.
In addition to the Protest Playlist, artists like Pharrell Williams, Tom Morello and others have lent their name to exclusive playlists highlighting causes close to their heart.
Lyric Graphics
Protest music finds its strength in powerful, memorable lyrics. ONE.orgs Lyric Graphic creator lets users choose their favorite lines from legendary protest songs and couple them with powerful images to create shareable works of art. The creators simple, intuitive interface, developed by F#, includes instant share capabilities that make it easy for users to raise their voices by sharing their artwork on Facebook, Twitter, and more.
agit8 is all about using music to inspire action, bringing more people into the fight against extreme poverty, said Jeff Davidoff, ONEs Chief Marketing Officer. Given F#s expertise in music-based digital experiences we knew they could create this one-of-a-kind site with multiple interactive and music experiences, and they did not disappoint.
We are proud to work with ONE and bring their vision online, and allow users around the world to listen, share and vote on their favorite protest songs, said Dan Merritts, CEO of F#. By integrating music right into the experience through playlists and video contests, were giving a new way for people to interact with music and spread the word to get others involved in helping to end extreme poverty.
ABOUT F#
F# is the leader in digital music advertising, leveraging the power of music to create rewarding online experiences. Working with Fortune 500 brands and leading agencies, F# develops and implements ad campaigns across various music and social media platforms, including Spotify and Facebook. F# ads have appeared on tens of millions of devices in more than 15 countries. To learn more, please visit http://www.efsharp.com.
ABOUT ONE
ONE is a nonpartisan campaigning and advocacy organization of more than three million people taking action to end extreme poverty and preventable disease because the facts show extreme poverty has already been cut in half and can be virtually eliminated by 2030. Learn more at ONE.org.
Find More Graphic Press Releases