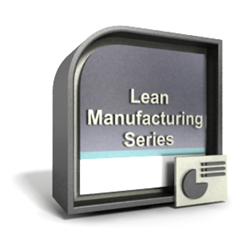 Lake Oswego, OR (PRWEB) July 25, 2013
A successful company is a lean company and Lean Manufacturing Supplies is now offering a powerpoint presentation about value streams and value stream mapping. This professionally developed presentation is designed as a 40-60 minute overview of the topic. It will focus on waste elimination and provide methods for identifying processes and determining which ones are most in need of help. Value stream is a group of processes that delivers value to its customers and may include order fulfillment, system or product development, information system management, and personnel hiring.
Companies can use the presentation as part of a group learning event, individual training at a computer, or as foundation slides for a more detailed or customized training presentation. The presentation is delivered in native Microsoft PowerPoint format for easy customization and contains 74 slides. All slides may be changed to accommodate uses for specific needs. A business owner of a small manufacturing plant commented, The Value Stream PowerPoint presentation was a big help when we were looking for ways to improve our efficiency. It is a great learning tool and is easy to follow.
The presentation will start out with an introduction and will proceed to touch on value stream background and history, value stream mapping steps, identifying the value stream, the current and future state, administrative value streams, unique situations, implementing change, roadblocks, and will end with a knowledge check.
Value stream mapping is a lean manufacturing technique used to analyze and design the flow of materials and information required to bring a product or service to a consumer. At Toyota, where the technique originated, it is known as material and information flow mapping. It can be applied to any value chain. Value stream mapping has supporting methods that are often used in lean environments to analyze and design flows at the system level. It is often associated with manufacturing but it can be used in healthcare, service related industries, administrative and office processes.
For more information about Value Streams PowerPoint, please visit Lean Manufacturing Supplies or call toll-free (866)777-1360 to speak with a professional representative.