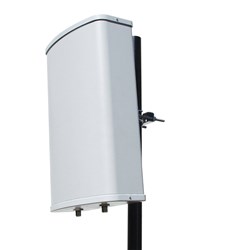 North Andover, MA (PRWEB) July 31, 2013
L-com, Inc., a designer and manufacturer of wired and wireless connectivity products, has added two more antennas to its distributed antenna system (DAS) series. The new sectorial panel antennas come with either 10 dBi gain 65 degree cross polarized, or a 14 dBi gain 90 degree vertical polarized. Both antennas feature wide bandwidths in frequencies ranging from 698-960/1710-2700 MHz, UV resistant radomes for all-weather operation, and come with heavy-duty steel mounting brackets.
Designed for use in Distributed Antenna Systems, these new sector antennas can be used to provide wireless coverage to densely populated urban areas, educational campuses, resorts, theme parks and nature centers. The wireless services typically provided by a DAS include PCS, cellular, Wi-Fi, police, fire, and emergency services. The HG72710XP-065 provides 65 degrees of coverage and features two independent antennas with cross polarization. This feature doubles the wireless capacity over the same channels. Providing 90 degrees of coverage, the HG72714P-090 features a single N-Female connector due to the antenna's internal combiner. This simplifies installation since only one coax cable is required to be sent to the antenna. They join L-com's selection of DAS antennas, which the company recently announced it would be expanding to meet demand.
"Our goal is to offer a fully comprehensive selection of antennas to support DAS installations," said Patrick Pesa, Director of Product Development. "These sectorial panel antennas are perfect for high-gain applications that require a wider beam-width."
The new antennas are stocked in L-com's HyperLink