Jigsaw Conducts Big Data Analytics Overview Workshop in Bangalore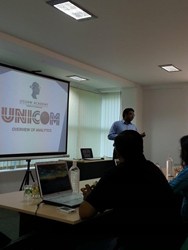 Bangalore, India (PRWEB) July 31, 2013
Jigsaw Academy, a best in its class analytics training academy that delivers online and video based courses in analytics and Big Data, conducted a Big Data Analytics Overview workshop in Bangalore on the 25th and 26th of July.
Jigsaw Academy partnered with UNICOM Learning Solutions, to deliver this workshop that covered concepts of analytics as well as several specifics related to analytics with Big Data. It provided participants a thorough overview of how Big Data tools like Hadoop and MapReduce are used for distributed computing, the ecosystem of Big Data technology and how they fit in the lifecycle of business analytics. The workshop also provided participants with training on R to both process data as well as generate predictive models.
"We had about twenty participants, who were broadly mid-senior level analysts and managers from companies like Fidelity, Target, Akamai, NIIT, TCS," says Kiran, an instructor at Jigsaw who was one of the chief trainers at the workshop. Kiran is a graduate of IIT-Madras with more than five years of professional experience in business analytics industry.
"The participants were very enthusiastic to learn about Big Data concepts and made the sessions very interesting and lively. They asked a lot of questions and participated in the case studies with much interest," says Sarita Digumarti, another Jigsaw trainer at the workshop. Sarita has over 10 years of extensive analytics and consulting experience across diverse domains including FMCG, retail and healthcare.
The business world is abuzz with analytics and Big Data talk and management professionals across the board are realizing how vital it is for them to understand and use analytics and big data tools. As one of the participants rightly said, "We all understand just what a big deal analytics is today and how the insights that analytics and Big Data bring to the table can be used to make some very important business decisions. We know that if we do not have some hands on experience with these tools, then we will not be able to use the insights to make business decisions effectively."
About the company
Jigsaw Academy is a first of its kind online learning academy that provides industry-relevant e-training and education in the field of data science and analytics to develop business-ready professionals. Its carefully-designed courses are a unique blend of statistics, statistical tools and industry knowledge, all taught through real life examples.
Find More Computer Press Releases