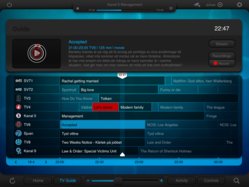 Melbourne, Australia (PRWEB) May 31, 2013
Available today, the iOS app iViewer Lite offers a cost effective way for DIY users and installers of smaller automation systems to create their own custom graphical user interfaces (GUIs) on an iOS device. These GUIs can be used to control any system that is controllable via Ethernet. Utilising CommandFusions free guiDesigner Windows program, users can create a GUI that looks and behaves the way they desire. Some possible uses for iViewer Lite include controlling a home entertainment system, a heating/cooling system or anything else the user can imagine.
The time is right for us to provide a cost effective solution that makes iViewer more accessible to not only DIY users, but also for installers of less complicated systems. We think it offers the best value for money in its segment, said Jarrod Bell, Co-Founder, CommandFusion.
Developed for the DIY and small installation market, iViewer Lite uses the same powerful automation engine as iViewer 4 - CommandFusions professional automation control product. It allows the user to create powerful user interfaces with dynamic content and advanced functionality such as gestures, lists, animations, JavaScript API and much more.
Main Features