Insure.com Reveals The Most and Least Expensive 2010 Vehicles To Insure in Interactive Tool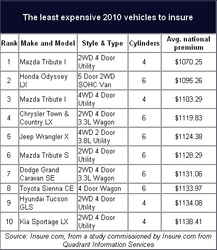 Foster City, CA (PRWEB) March 15, 2010
Insure.com's annual ranking of average car insurance rates reveals that the Porsche Carrera GT2 two-door coupe is the most expensive vehicle to insure among 2010 models. A 40-year-old male would pay a national average of $ 2,943.78 for car insurance annually and that's assuming the driver has a good driving record.
On the other end of the scale is the Mazda Tribute I (2WD four-door SUV) the least expensive 2010 vehicle to insure among the more than 2,400 vehicles examined. Looking across other categories, the Dodge Caliber is the least expensive passenger car to insure, the GMC Canyon WT (2WD 2 Door 2.9L) is the least expensive pickup to insure, and the Honda Odyssey LX (5 Door 2WD SOHC) is the least expensive minivan to insure.
Youll find average premiums for more than 2,400 vehicles, including national and state averages, in Insure.coms new interactive car insurance comparison tool.
The profile of the average person who drives a particular model has great influence on the premiums for that vehicle. Costs for collision and comprehensive coverage are based on the model's "loss history." For example, small cars that are often driven by young, inexperienced drivers tend to be more expensive to insure. Car insurance rates also tend to rise with horsepower.
The Least Expensive 2010 Vehicles to Insure
Make & Model, Style & Type, Avg. national premium
1. Mazda Tribute I 2WD