InfiniteSkills "Learning Adobe Photoshop CC Training Video" Gives an Insight Into Professional Digital Imagery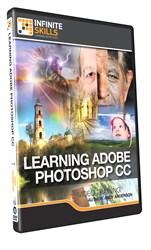 (PRWEB) May 25, 2013
Software training firm InfiniteSkills Inc. last week introduced its "Learning Adobe Photoshop CC Tutorial," a course designed to teach fundamental photo editing skills using Adobe's flagship application.
The latest release of Adobe Photoshop includes important new features such as shake reduction, smart sharpen, conditional actions, and several other important improvements.
InfiniteSkills' Learning Adobe Photoshop CC Training Video covers all these new features as it provides a comprehensive introduction to many key elements of using Photoshop.
Adobe Photoshop CC Tutorial Video
Course author Andy Anderson is a career photographer, professor, and designer, with decades of commercial and artistic publications to his credit. He has authored 17 best-selling books on graphics and design. Focusing on the Adobe Creative Suite line, Anderson works and trains others in using Photoshop, Premiere, Elements, Illustrator, Flash, and Dreamweaver.
Benefitting from the insight and perspective developed over the course of an award winning career, Anderson begins by explaining fundamentals like setting up custom Photoshop preferences and navigating the workspace efficiently. Complex topics such as color correction, exposure, Photoshop layers, image navigation, and more, become clear and simplified in Anderson's fluid but targeted teaching style.
In addition to the basic workflow navigation and editing effects, Anderson explains advanced techniques, tapping into Photoshops power with features such as working with the Camera Raw plugin, using filters and blending, how to perform advanced selections and save time with Actions, working with custom brushes, and much more.
"This program is a never ending story," Anderson says. "A course explaining everything you could ever want to know about Adobe Photoshop wouldn't exist because it would be infinite. This is a fundamentals course. And I promise you that by the end of this class you will have your feet on the ground solidly in Photoshop and be off and running."
Free demo videos and a full list of course contents can be found on the Learning Adobe Photoshop CC page of the InfiniteSkills website:
http://www.infiniteskills.com/training/learning-adobe-photoshop-cc.html
InfiniteSkills offers its Learning Adobe Photoshop CC Training Video either as a DVD or a direct download from the company website at a retail price of $ 99.95. Though the compatibility of programs varies, all InfiniteSkills titles and formats are compatible with both Mac and Windows operating systems, and shipping is available around the globe. Additionally, InfiniteSkills tutorials are supported by project files which correspond to examples in the videos.
About InfiniteSkills Inc.
A leader in the field of software training, InfiniteSkills strives to offer the highest quality training available at an affordable cost. InfiniteSkills tutorials are task-oriented instructional videos, teaching complex skills by providing hands-on examples, guiding users as they carry out critical objectives. InfiniteSkills offers a comprehensive range of software titles available as DVDs, digital downloads, and iPad editions, keeping with company aim of delivering professional training to customers anywhere they want to learn.