Hollywood Based Animation Company Rides the Growth of the US Tech Boom & the Surging Mobile & Online Video Sectors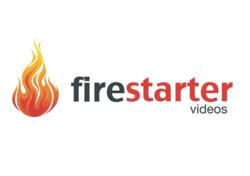 Hollywood, CA (PRWEB) July 01, 2013
One of Hollywood's most successful animated video companies, Fire Starter Videos, is celebrating their first year in business in the sunshine state, and they have much to smile about. Officially launched in June 2012, the company has experienced double-digit monthly growth since the get-go and shows no signs of slowing. Entering the market with aggressive pricing and some of the most talented voice artists, story board artists, writers, and animators in the business, the company has produced more than 300 videos in their first 12 months. Clients range in size and type from independent app developers, to governments and Fortune 100 companies.
Their incredible growth is in lock-step with the surging tech sector that now spreads across the US, as well as the explosive growth in mobile and online video.
According to Mojo Video Marketing, online videos now account for more than 50% of all mobile traffic, and up to 69% on certain networks. In fact, no matter what device they're using, 96% of online shoppers watch online videos (Comscore, August 2010). That's an enormous segment of the buying public that a business could access with the right video, and marketing departments have taken notice. According to an April 2012 report by Social Media Examiner, 76% of marketing professionals planned to add video to their websites in 2012, which took top priority over reaching out to potential customers via Facebook, Twitter, or blog integration.
Fire Starter Videos' rapid sprint to success among animated video companies can be attributed to a combination of the popularity of online videos in general as well as the increasing awareness among businesses realizing the effectiveness of animated explainer videos. According to the Implix 2010 Email Marketing Trends survey, video in email marketing has been shown to increase click-through rates by over 96%. Internet Retailer's April 2010 report announced that viewers who view product videos are 85% more likely to buy than visitors who do not. With hugely positive statistics like these, all kinds of businesses have rushed to contact Fire Starter Videos to help them make their own unique mark on video-spurred commerce.
Helping these businesses stand apart from others in particular is the use of animated explainer videos, which is what Fire Starter produces exclusively. Animated explainer videos can utilize creative freedom that's not afforded to live action videos. For instance, showing a rocket toting a company's logo while flying to the moon would be difficult (if not impossible) for a live action video, but in animation, it takes no more time or effort to create such an effect as it would take to draw a puppy licking a little girl's face. Furthermore, animated explainers often utilize characters that were created exclusively for the company, which many companies end up using as part of their branding in other areas because of how memorable they are (think Esurance's now-retired pink-haired heroine).
But perhaps the core strength in Fire Starter's video creations are the sense of fun a potential buyer feels when watching an animated video, no matter what the topic. Founder and CEO Adam Hudson comments: "These days, through animation, companies of all sizes can afford to let their imaginations run wild and quickly differentiate themselves in a crowded online world. It used to be that marketers shot for the middle. However, these days there is no riskier place to pitch your message than in the center. Almost every breakout hit in the online video sector has pushed the brand into new territory by aiming for the fringes and challenging the status-quo. One need only look to hits like Dollar Shave Club and Old Spice to prove this point."
Fire Starter Videos produces all kinds of animated videos from whiteboard animation, to cartoon animation and explainer videos. Their clients include MasterCard, UNICEF, Hayes, the World Bank, and more than 200 governments, schools, and other organizations.
They are located at 7083 Hollywood Blvd, CA. To view examples of their work and commission a video, please visit their website at http://www.FireStarterVideos.com or email info(at)firestartervideos(dot)com.
Media contact:
Adam Hudson

Fire Starter Videos

(888) 988 3856

info(at)firestartervideos(dot)com