Hard Science Fiction Writer Jeff Carlson Releases "Interrupt" with 47North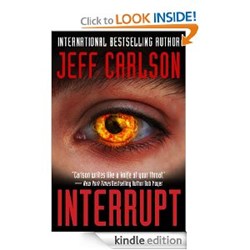 (PRWEB) July 25, 2013
Jeff Carlson, known for his Plague Year series, has released his latest novel, Interrupt, with 47North, the new imprint owned by Amazon.com.
The novel is about a computational biologist, a Navy pilot, and an autistic boy who are drawn together by the ancient mystery that gave rise to Homo sapiens. Planes are falling from the sky. Global communications have ceased. America stands on the brink of war with China — but war is the last of humankinds' concerns. As solar storms destroy Earth's electronics and plunge the world into another Ice Age, our civilization finds itself overrun by a powerful new species of man.
His career started when he entered and won the International L. Ron Hubbard Writers of the Future contest in 2007, which published "The Frozen Sky" in the writing career launcher, L. Ron Hubbard Presents Writers of the Future anthology.
Jeff then published the novel version a few years later in e-format, selling 40,000 copies on Kindle. Jeff is no stranger to success, his Plague Year and Plague Zone novels attracted a large audience and were published in multiple languages.
"Jeff has a long career in front of him. This is a person with amazing ideas that just keep coming," contest Director Joni Labaqui said when she heard the news.
The contest, now in it's 30th year, created by best-selling author L. Ron Hubbard, is a merit-based competition initiated to discover and encourage talented beginning writers of science fiction and fantasy and help launch their careers. Winners are treated to not only publication of their work in the annual L. Ron Hubbard Presents Writers of the Future, but are also given a week-long workshop on the life of a writer and a gala awards ceremony.
The contest has launched the careers of twelve New York Times bestselling authors in it's 30 year history.
To learn more, including details on how to enter the contest, visit their website at http://www.writersofthefuture.com
Related Computer Press Releases