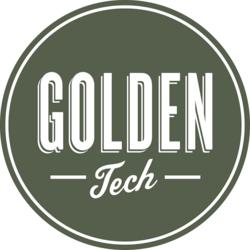 Naples, FL (PRWEB) June 28, 2013
With a fertile landscape for large business, Southwest Florida is prime realty for new manufacturing work. To help bring those jobs to life, local IT and tech firm, Golden Tech, has joined the Southwest Regional Manufacturers Association (http://www.srma.net).
We know that Southwest Florida is home to some of the best and brightest when it comes to manufacturing practices. Its high time we start to join forces and come together under the common goal of building and growing our community, says Golden Techs Michael Haas.
Since the industrial revolution, American ingenuity has leveraged technology to drive manufacturing. Its hard to imagine a more perfect representation of that ingenuity than the Golden Tech brand. With their mid-century Americana flare, its not surprising to hear they come to tech from a different route. The four founders, Six-Sigma blackbelts, all paid their dues as engineers in the Indiana steel mills. Always looking to find manufacturing efficiencies, they quickly picked up IT and havent put it down.
Golden Techs background in lean manufacturing, puts us in the perfect spot to help grow the SRMA. We get what they do more than the typical tech firm. And, as engineers, we talk a common language, says Golden Tech Senior Partner, Greg Scasny.
As our clients well know, we pride ourselves on bringing a common sense, business-minded approach to the technology space. At the same time, we know that technology outpaces us all, and the manufacturing space needs to stay on pace to compete in the global economy.
The Southwest Regional Manufacturers Association was chartered in effort to provide a forum for local manufacturing and other firms to pursue better ways to grow the local economy. The group has grown its membership rapidly and helped to cultivate a budding entrepreneurship in the area.
Golden Tech is a leading IT outsourcing, tech support, and cloud managed services provider, serving small and medium-size businesses for more than 15 years. Founded by four engineers, Golden Tech is proud to offer handcrafted technology solutions meeting the exacting needs of each of our customers. Golden Tech currently has four locations, serving the Chicago, IL, Valparaiso, IN, South Bend IN, and Southwest Florida regions. Learn more at http://it.golden-tech.com.
Golden Tech and the Golden Tech logo are registered trademarks or trademarks of Golden Technologies, Inc. Other product, service, or company names mentioned herein are the trademarks or registered trademarks of their respective owners.
For more information about this topic, please contact Marc Oestreich by calling 866-806-7127, or e-mail at media(at)golden-tech(dot)com.
Find More Tech Press Releases