Foundation Repair Needs Rise from Effects of Harsh Winter Weather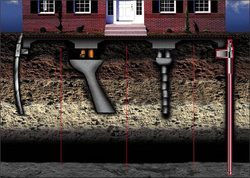 Calimesa, CA (Vocus) March 12, 2010
Possibly having adverse effects, harsh winter weather may soon take its toll on concrete foundations around the country. Home and business owners can now visit ConcreteNetwork.com for updated information on foundation repair methods, should they encounter a problem. Outlining the two methods for repair slabjacking and piering the site offers articles covering method overviews, how to choose the correct method, advantages, how each process is done and more.
Choosing the right type of foundation repair method is the first step in the process. For smaller slabs, such as driveways, pool decks and others, the most commonly used method is slabjacking. For larger problems, like commercial building foundation shifting, piering is typically used.
Before a method can be chosen, it is important to determine what is causing the distress. There are several factors that contribute to the settlement and movement of foundations. Winter weather, in regards to heavy rain and snow, can cause drainage problems, eroding or consolidating the soil underneath the foundation. Other reasons for failure include building on unsuitable soils like expansive clay or improperly compacted fill soils, or improper maintenance around foundations are just a few.
For further information on these foundation repair methods and to find a foundation repair specialist, visit ConcreteNetwork.com.
Established in 1999, The Concrete Networks purpose is to educate consumers, builders, and contractors on popular decorative techniques and applications. These include stamped concrete, stained concrete floors, concrete countertops, polished concrete, and much more. Over 11 million people visited ConcreteNetwork.com in 2009 to research, get ideas and to find a contractor.
The site excels at connecting buyers with local contractors in their area through its Find a Concrete Contractor service. The service provides visitors with a list of decorative concrete contractors throughout the U.S. and Canada, and is fully searchable by more than 20 types of decorative concrete work in over 200 regional areas throughout North America.
Article photo courtesy of Ram Jack Systems Distribution, LLC in Ada, OK. Attached photo courtesy of Concrete Slab Jacking Inc in Maryland.
# # #
Find More Ram Press Releases