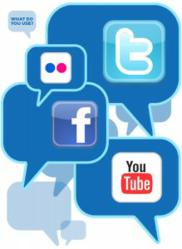 Sunrise, FL (PRWEB) May 20, 2013
Experience Advertising, Inc., a leading online marketing agency, has released their latest infographic on the growth of social media advertising. Social media advertising has increasingly become central to the online marketing budgets and strategies of all sizes of companies, due to the fact that social networks like Facebook, Twitter, and Pinterest have grown tremendously in the last 3 years. People are spending large amounts of time on social networks, so it has become imperative for companies to leverage social networks through community building and effective advertising.
Recently it has been predicted that the percentage of revenue generated by social media will increase by 19 percent. (Source : BIA/Kelsey - an advisor to companies in the local media industry). Evan Weber, CEO of Experience Advertising, stated, "Effectively advertising on social networks like Facebook and Twitter has become just as important has effectively advertising in Google and Yahoo search. Therefore, companies need to be devoting marketing budget to growing out their communities on social networks as well as making their social network advertising have a positive ROI."
Social media advertising derived revenue in the US is expected to grow from $ 4.6 billion in 2012 to $ 9.2 billion by 2016. The Local portion of the US social media ad revenue is expected to grow from $ 1.1 billion in 2012 to $ 3 billion in 2016.
This growth is why 2012 has come to be known as the year social media came of age. Facebook Sponsored Stories and Promoted Tweets grew tremendously in 2012 and are expected to continue to grow year over year.
Native social advertising is branded content that is blended into the experience of a social network. (Source : the market analysts at BIA/Kelsey). Spending on native social advertising will surge from $ 1.5 billion to $ 3.9 billion in 2016.
Here is the data on the most popular social networking websites:
Twitter: The brevity of Twitter has secured its place within the Internets landscape. People are far more like to read these succinct tweets as opposed to a lengthy advertisement.
Facebook: Facebook caters to more detail. Here you can see videos, photos, and more accurate descriptions.
A study attributes 84% of engagement or clicks to Like that link to Facebook ads.

Brands increase fan counts on average of 9% monthly.
Foursquare: This is location-based, prompting users to check into certain places with their smart phones. When people feel a sense of pride toward something, even if it is ironic, they are likely to stand behind it. Users will get rewarded for being loyal. Free food, discounts, or privileges can be yours if you are mayor of a specific location.
Google+: Google+ allows you to work with many of Googles suite of tools, like Google AdWords and Google Maps, in addition to their search engine. Many individuals like this sort of all in one approach. This allows for targeted advertising and navigation services.
Instagram: Instagram has a very loyal following. It is a free photo-sharing app and social network that swept the Internet in 2010. Over 100 million people use Instagram, and the number will likely continue to grow. You can follow other people, they can follow you, thus ensuring you are well connected to all of your friends.
Blogs: Blogs are free, accessible, and allow users a great amount of freedom. Blogs are highly effective vehicles for companies and clients to connect in an online space. They can include testimonials, and can link to and from Facebook, Twitter, and many other pages. Users can also subscribe to them.
The Growth of Social Media Advertising infographic clearly demonstrates that social networking has become entrenched in peoples' lives and therefore demands companies to devote resources and advertising budget to growth their presences on social networks. Experience Advertising, has a team dedicated to building a company's presence on the various social networks and effectively managing online advertising budgets. If you are interested in having your social media marketing managed effectively, visit Experience Advertising for a free analysis and quote. The info graphic was created by Blue Polo Interactive.
Pages
Categories
Blogroll
Archive
Meta