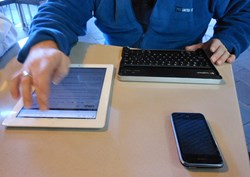 Scottsdale, AZ (PRWEB) August 12, 2013
According to a June 23rd Computerworld article that summarized surveyed stats from technology provider CDW, 84 percent of employee respondents said tablets make them better multi-taskers at work.
And this helps them gain just over one hour in daily productivity.
When multiplied by the large number of workers enterprise-size companies typically employ, this increase in productivity time is dramatic. For example, many larger organizations that utilize Appointment-Plus enterprise scheduling software save tens of thousands of work hours each week.
Tablets let employees perform their tasks more efficiently, as they can access work-related applications on the go, said Stephen Booze, CIO of Appointment-Plus. People tend to be more productive when theyre not tied down to a single computer.
Tablets give them flexible options for managing and completing their job duties.
Among the tasks that large organizations such as automotive dealerships and service-based franchises can easily manage with tablets are customer appointments. Online scheduling software lets staff instantly view their calendars and book appointments in seconds.
Here are three reasons why enterprise scheduling software is the perfect fit with iPads and Android tablets.
1.