Digital Signature Expert from SIGNiX Presents Webinar on Solving Your Paperwork Pain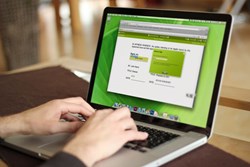 Chattanooga, TN (PRWEB) July 21, 2013
SIGNiX, a leading provider of secure digital signatures, has announced that its director of product management, John Harris, will present a webinar to teach business leaders how to eliminate the costs and other pain points of using paper processes.
We all know the benefits of going paperless, but many people dont know how easy it is to go digital, Harris said. E-signatures make that process a breeze. Business and their customers can route, review and sign documents all from one easy-to-use interface online.
People who register for the webinar will learn:

The hidden costs of paper documents
The compelling benefits of digital signatures
How to choose an e-signature vendor
John has been working in the e-signature industry for many years, said Joshua Levey, CEO of Computime, a partner of SIGNiX who will host the webinar. He will offer valuable insights to people wondering if an e-signature product is right for their business.
SIGNiXs online signature products allow businesses to send documents for signatures on the Internet. This technology improves efficiency and lowers costs without sacrificing security. With SIGNiX, customers can review and sign documents online at their own pace no matter where they are.
What: SIGNiX: Solving Your Paperwork Pain with Online Digital Signatures.
When: July 25th at 3:00PM CST
Price: Free
How to Register: Visit https://attendee.gotowebinar.com/register/5025170911777460736
About SIGNiX

SIGNiX, headquartered in Chattanooga, Tenn., makes signing documents online safe and secure. SIGNiX offers the only independently verifiable cloud-based digital signature solution, which combines convenience with best-in-class security. SIGNiXs products help the worlds leading companies become more efficient, decrease risk and boost profits.
About Computime

Computime provides a wide range of services, including high-tech sales and consultations, distribution, logistics, asset management, post-sales support and marketing services. Our growth and profitability are a reward of customer service levels meant to set the highest expectations. Computime built and manages a large and diverse technology distribution channel of resellers, end users and distributors worldwide.