Congressman Darrell Issa & David Williams, Inspector General of USPS, to Keynote at Predictive Analytics World for Government 2013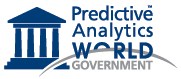 Washington, D.C. (PRWEB) July 18, 2013
Where do the Chairman of the House Committee on Oversight and Government Reform, the Inspector General of the USPS, IRS and Treasury officials, the Army, the Navy and the Chief Actuary of VA find common ground? At Predictive Analytics World for Government (PAW-GOV), September 18-19, 2013 in Washington, DC.
The agenda and speakers for this industry leading and only vendor-neutral analytics conference for government have been confirmed. Last year, 500+ attendees came together for this established networking event, a figure that looks to be increased in 2013.
Unlike general conferences, PAWGOV is specifically designed to help government leaders, analysts and program managers understand how they can apply predictive analytics more efficiently and effectively. On the agenda are hot button topics such as fraud detection using predictive analytics, extracting intelligence from big data, staff forecasting, text analytics and mining unstructured data, open data and data transparency legislation (DATA Act), DODs Data to Decisions big data initiative, SECs use of analytics to detect fraud and insider trading, building an analytics capability in the Federal government, how to overcome obstacles to analytics and how to get ROI from data analytics.
Leading the charge are PAWGOVs two keynote speakers: