Cloud Expo Europe moves to ExCeL London to meet 45% growth in demand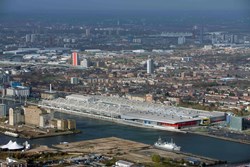 London, UK (PRWEB UK) 16 August 2013
Huge surge in demand from some of the worlds biggest technology companies has led to the UKs Best Trade Show*, Cloud Expo Europe, moving to ExCeL for its 2014 event in February.
Following the success of the 2013 show at Olympia, which attracted more than 6,850 attendees, AWS, Dell, NTT and Outsourcery have already joined the growing list of exhibitors for the 2014 event, which will take place later than usual on the 26th and 27th February.
The expansion to ExCeL provides room for new additions to the Expo, including a Software Defined Networking programme, dedicated Big Data content and a new dedicated programme for developers all designed to attract more decision-makers from enterprises, service providers and the cloud ecosystem.
An impressive range of speakers, headed up by Netflix CTO Adrian Cockroft, will also have the crowds flocking to the event. Confirmed panel speakers include Chris Kemp, CEO of Nebula and former CTO at NASA, Daniel Leabeau, Group CIO at GlaxoSmithKline, as well as cloud computing experts from eBay, PayPal, Vodafone, HSBC, Deutsche Bank, Philips and Citibank.
Thomas Standley, Cloud Expo Europe Show Director, said: The move to ExCeL is a really strong and positive move to build on the rapidly growing success of Cloud Expo Europe. Vitally, it means we now have as much room to grow as we need, all on one level and with our Keynote and other content hubs located right at the heart of the show, driving traffic to exhibitors' stands.
To accommodate the move we have also moved the event to the end of February. This will be welcomed by many, as show preparations have previously been disrupted by Christmas and it also allows us to run an even more effective campaign in the two months prior to the event.
The move has also been welcomed by exhibitors, including Omer Wilson, Marketing Director EMEA at Digital Realty, who said: We have seen Cloud Expo Europe grow exponentially over the last couple of years and are excited to follow the show to ExCeL as it prepares to grow its visitor and exhibitor numbers even further as Europes leading technology event.
CloserStill has also announced that the event will take place alongside Data Centre World, the largest data centre event in Western Europe. Data Centre World, which was recently acquired by CloserStill, made the move to ExCeL earlier this year and attracted a record-breaking attendance, up 19 per cent on the previous year, and its biggest ever exhibitor line-up.
Phil Nelson, Director of CloserStill, said: The combination of Cloud Expo Europe and Data Centre World is a compelling prospect. Both events will retain their separate identities, entrances, content and audiences but the two events together, with over 300 exhibitors and more than 10,000 visitors, will instantly be the biggest IT and technology gathering in the UK.
Jonathan Brown, Marketing Director of leading Cloud Expo Europe exhibitor Interoute, also endorsed the co-location with DCW: Relocating Cloud Expo Europe to the ExCeL Centre is a smart move, positioning the event in a world class venue. Running the show alongside Data Centre World should attract many more delegates to the event, boosting the conversations and interactions that have made this such a successful show for us in the past.
*On 21st June Cloud Expo Europe won the exhibition industry's Blue Riband award, the Association of Exhibition Organisers' Best Trade Show accolade for an unprecedented second successive year