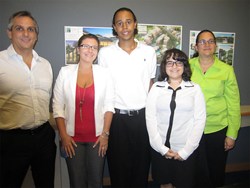 (PRWEB) July 22, 2013
Cayman Enterprise City (CEC), Caymans hi tech Special Economic Zone has rewarded the two young winners of The Coolest Internship in Cayman video contest with summer internships in the zone. During the month of June contestants in the Cayman Islands between the ages of 15 and 25 were asked to submit a short video making their case for the chance to work in the zone where 65 companies are now operating international businesses. 20-year-old Neith Rheingold, a second year student at the University of Westminster in London, convinced the judges that the internship is tailor-made for him.
Im hardworking, motivated and I really want the opportunity to work at CEC because it fits right into my career choices, business management and international business, says the young Caymanian. I can learn a lot from the people at Cayman Enterprise City - get good advice, gain knowledge and do some networking. I hope to take this knowledge back to school with me.
Cayman Enterprise City CEO Charlie Kirkconnell says the video contest was a good way to engage Caymans younger generation with the high tech tools they use on a daily basis, and get them thinking about the growing opportunities CEC will offer in the coming years. We have made a commitment to improve the future of young Caymanians by attracting interesting new technology-based industries to these islands, he says. The enthusiasm and creativity shown through the video contest is very exciting and encouraging, it shows us that our kids want to be involved.
16-year-old Thalia Ramos, a local high school student, also won an internship with a creative video that included animation and music. Neith and Thalia will learn the inner workings of the special economic zone by shadowing CECs teams from various departments; marketing, business development and client services. Theyll learn how to market the Cayman Islands internationally, work on lead generation projects and plan overseas business development trips and more. The interns will also be involved in Skype calls with potential clients around the world and participate in online presentations, plus face-to-face meetings. Im very excited, says Neith Rheingold. Im pretty sure Im gonna love it and will want to come back next summer.
The interns will also learn about the logistics involved in helping a company set up in the zone, from the licensing process to the relocation of employees. Clients need assistance with local health insurance, pension plans, banking, service providers, accommodation, cars, shipping, movers and more. Neith and Thalia will also meet with some of the zone companies to learn about their businesses and industries, and experience first hand the growing tech hub at CEC.
I hope to contribute my ideas to the conversation because I want to be a part of whats going on there, says Neith. I think CEC is a great organization and they are going to do a lot of great things for Cayman. Hopefully when I graduate there will be an opportunity for me at CEC.
We want the young people to come away from the experience with a good understanding of the zone, how it works, how it is marketed and sold internationally and to see whether these are industries they may wish to work in, in the future, says Charlie Kirkconnell, also understanding that he and the other Caymanians at CEC are important role models for the next generation.
About Cayman Enterprise City

Cayman Enterprise City is a Special Economic Zone in the Cayman Islands, focused on knowledge-based industries, technology companies and specialized services businesses. International businesses can set up in the zone to take advantage of Caymans jurisdictional benefits along with some unique concessions. These concessions are designed to attract companies from five specific high-tech sectors: Internet and technology, media and new-media ventures, biotechnology, commodities and derivatives and academia. For more information call +1-345-945-3722 or visit http://www.CaymanEnterpriseCity.com.
Related Tech Press Releases