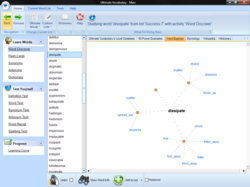 New York City, NY (PRWEB) June 30, 2013
Ultimate Vocabulary was developed by software company eReflect, and with their release of the 2013 upgraded version, the company's representative revealed today their ultimate purpose for developing this vocabulary improving software. According to the representative from eReflect, Ultimate Vocabulary was designed as a software package that would assist the overall literacy promotion of young students and adults through vocabulary improvement.
The softwares developers state that by having an improved, extensive vocabulary a person can more easily gain professional and social advantages that would otherwise be unreachable. To help users reach their goals, Ultimate Vocabulary incorporates the latest vocabulary teaching technologies that allow learners to acquire deep-level knowledge of words, unlike most of the similar vocabulary improvement software products that focus on sterile, uninspiring word lists. Ultimate Vocabulary offers extensive knowledge on each word, from synonyms and antonyms to pronunciation and power usage examples. As a direct result of this approach to vocabulary, the eReflect software company representative explained, learners can master each word perfectly. This thorough knowledge of words is what allows them to reap all the benefits a strong vocabulary offers.
As users start building vocabulary with Ultimate Vocabulary they can immediately feel and see the advantages a strong vocabulary offers. As outlined on the official Ultimate Vocabulary website, these advantages include improving oral and written communication at both the professional and social level, improving professional image and status, gaining an increased ability for reading comprehension, and even an enhanced ability to get more satisfaction and enjoyment out of reading. For eReflect, the designers behind Ultimate Vocabulary, the most crucial benefit of an improved vocabulary is boosting literacy, which they confirm is the ultimate purpose the software was created for to begin with.
In view of the comprehensive approach to vocabulary learning Ultimate Vocabulary has adopted, it is possible for learners to improve their overall literacy through vocabulary improvement. According to eReflect, vocabulary is a person's most important tool in gaining access to the world of knowledge. The more comprehensive and extended a person's vocabulary is, the more knowledge they can accumulate. A wider knowledge of vocabulary almost ensures a better literacy level for students and adults alike. A broad vocabulary base is what will allow a person to use the most appropriate word to express an idea, feeling, or argument. Moreover, eReflect notes, vocabulary is the vehicle people use for surviving in today's competitive world, and the more articulate a person is the more likely they are to succeed.
For more information on how you can benefit from Ultimate Vocabulary, please visit its official website, http://www.ultimatevocabulary.com.
About Ultimate Vocabulary
Ultimate Vocabulary provides a proven and powerful platform, built to improve anyones vocabulary.
The interactive self-improvement system provides more learning tools than any other program on the market, as well as more information on words.
The Ultimate Vocabulary software provides each and every user with a personal computer tutor. Providing a step-by-step guide to learning a powerful vocabulary, Ultimate Vocabulary is the learning tool everyone can benefit from.
Of course, the software is also backed by eReflects iron-clad money back guarantee.