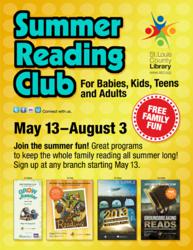 St. Louis, MO (PRWEB) May 01, 2013
St. Louis County Librarys popular summer reading clubs will kick-off early this year starting May 13 and running through August 3. The library offers clubs for all ages: babies, kids, teens and adults, with fun programs and great prizes for each age group. Participation is free, and as an added incentive, preschool children through those entering 12th grade will have their fines waived when they sign up for a summer reading club (some restrictions apply). Registration begins May 13; simply stop by any St. Louis County Library branch to sign-up. Teens and Adults can register online at http://www.slcl.org/summer-reading-clubs.
Grow a Reader @ Your Library

Baby Summer Reading Club for ages 0-2

Parents, keep track of how many books you read to your little one and how many library story times you attend on the log sheet you receive when you sign up. Bring the log sheet to the library when you reach each prize stop. Prizes include O Balls, board books and tickets to the Magic House.
Dig Into Reading

Kids Summer Reading Club for ages 3 entering 5th grade

Kids, track the number of minutes or books read on a special log sheet. Bring your log sheet to the library when you reach each prize stop and earn great prizes. A full line-up of great programs will be featured including live performers, crafts, puppetry, animals, movies, treats, and, of course, stories. Prizes include giant beach balls, excavation kits and a chance to win Cardinals tickets. Kids who complete the club will receive a pass to one of five Library Nights at the Magic House (pass includes free entry for one child and up to two adults). In addition, kids who complete the SRC bonus round will be entered into a raffle for additional prizes.
Beneath the Surface

Teen Summer Reading Club for teens entering 6th 12th grade

Teens can earn points by reading books, magazines, graphic novels, and listening to audiobooks. Register and keep track of your reading online at http://www.slcl.org/teens or pick up a log sheet at your nearest branch. When you complete a level visit a branch to collect your reward. Programming includes laser tag, stop motion animation workshops, tye-dye t-shirt tutorials, cupcake decorating and more. Grand prizes include a Kindle Fire (one winner per branch!), a mountain bike, a Dell laptop and an iPad 2.
Groundreaking Reads

Adult Reading Club for ages 18 and older

The Adult Reading Club encourages participants to complete six books during the 12-week period (May 13 August 3). Individuals who complete the club will receive a beverage tumbler, a coupon for a free sundae at Sonic, and a buy-one-get-one-free coupon for a 6-inch sub at Penn Station. People who complete the program will also be entered into raffles to win gift cards from Barnes & Noble and the St. Louis Bread Company. Other prizes include Mary Engelbreit tote bags and tickets from the St. Louis Cardinals and Wehrenberg Theaters. Stop by your local branch to register or sign-up online at http://www.slcl.org/summer-reading-clubs and start reading!
Summer reading club program guides are available at all SLCL locations. For more information, visit http://www.slcl.org/summer-reading-clubs or call 314-994-3300.
Find More Graphic Press Releases