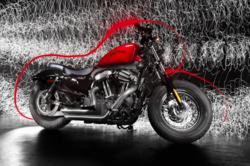 (PRWEB) May 08, 2013
Theres a new photography studio in southwest Florida, Redline Images, but its not taking aim at beachfront weddings and sunsets as one might expect. The husband and wife team behind Brilliant Lens LLC has a unique focus for their Redline Images brand of custom portrait photography. Bryon and Kellie McCartney combine their image expertise with their love of the Ride to create custom artwork for car and motorcycle enthusiasts.
Its about showing and sharing your Pride for your Ride, says Bryon McCartney, owner and chief photographer. Our photography captures the excitement and connection people have with the things that move them especially motorcycles and cars.
The couple set up Brilliant Lens LLC in late 2012, shortly after they returned to the U.S. after working overseas for 11 years. They quickly began building on the success they had with their own photography and video agency in Zurich, Switzerland.
Having grown up riding motorcycles in his teen years, buying a motorcycle was one of the first things Bryon did as he and Kellie got settled into their Florida home. This is a great area for biking, Bryon says. Whether were riding for work or for fun, were enjoying the chance to get to know the local motorcycle and car communities.
The couple photographs all forms of personal transportation, with a specific focus on unique cars and motorcycles.
We see everything from customized bikes and vintage classics to muscle cars and exotic super cars, and from private jets and boats to the natural power of a show horse. Bryon explains that while these subjects are works of art themselves, his goal is to go beyond the chrome and pipes to reveal the family stories and personal adventures in images. Weve heard from fathers and sons who have stayed close over the years through a shared love of restoring classic cars. We know husbands and wives who are happily married to the open road from the seat of a motorcycle. And, its especially moving to witness the strong support for Veterans within the biker community, he says.
Through Redline Images, Bryon and Kellie translate these personal stories into breathtaking images that their clients can be proud to display and enjoy for years to come. Being able to capture our clients stories and make lasting photographic art is what makes our work so exciting, says Kellie.
Blending Personal Passion with Professional Expertise
Beyond his passion for his photo subjects, Bryons professional expertise is based on more than 25 years in creative services, including photography, video, and graphic design for Fortune 500 clients in the U.S. and Europe. While based in Zurich, he handled projects for GM Europe, including photographing editorial features and managing website design, and he photographed the famous Geneva Motor Show for Chevrolet. Bryon holds a B.A. in Graphic Design from Ohio University. His fine art photography has been exhibited in the U.S., Austria, and Switzerland, and has been recognized for excellence with many awards, including Best of Show Selection in the prestigious International Photography Awards and First Place in the Prix de la Photographie Paris.
While Bryon works behind the camera, Kellie manages the studio with a focus on creating a great customer experience. She also oversees marketing efforts and community involvement. Kellie received her Mass Communications degree from the University of Minnesota and spent 25 years leading public relations and business communications programs for major multi-national companies in the U.S. and in Europe. In 2007, she joined Bryon to expand on his growing photography business and switched from using words to using images to help clients tell their stories.
About Redline Images

Redline Images creates custom photographic art for automotive and motorcycle enthusiasts. They ask the right questions, listen to the answers, and then work with their clients to produce meaningful, story-telling images of their clients and their rides. With custom portrait and motor sports photography from Redline Images, clients have an ever-lasting memory of their prized possessions. From its spacious photo studio near Southwest Florida Regional airport, Redline Images serves private clients with in-studio and on-location photography, and Brilliant Lens provides business clients with high-quality commercial photography and video services.
To see what Redline Images can do for you, visit http://www.redlineimages.com.
Contact:

Redline Images

13891 Jetport Loop, Suite 24

Fort Myers, FL 33913