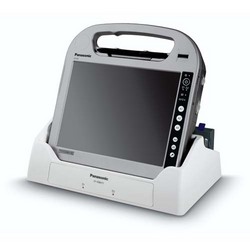 Phoenix, AZ (PRWEB) February 18, 2010
Group Mobile (GroupMobile.com), a company that specializes in providing mobile and rugged computing products, is pleased to announce the addition of a new rugged computer to its product offering. The new addition is the Panasonic Toughbook H1 Field tablet PC. This fully rugged handheld tablet PC represents the ultimate computing solution for mobile workers.
Group Mobile is excited to offer this new Toughbook tablet computer from Panasonic to our customers," said Richard Lawson, President of Group Mobile. "Panasonic designed the H1 Field tablet based on extensive end-user input and thus ensured that it had the correct combination of features, performance, and durability at an affordable price. The H1 Field enables mobile employees, such as field supervisors, utility workers, inspectors, emergency responders, field service and delivery people, and other mobile professionals to work with greater efficiency.
With superior ergonomics, a beautiful sunlight-viewable display screen and a sealed all-weather design, the Toughbook H1 Field lets the worker do their job almost anywhere. The computer keeps outs moisture and dust and can handle being dropped from a height of 6 feet. The Toughbook H1 Field includes a wide range of integrated wireless features including Wi-Fi, Bluetooth