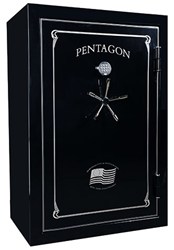 (PRWEB) July 16, 2013
Gun safety, gun control and gun violence spark debate everywhere. New proposals for gun are piling up for Congress to review and decide new if regulations and standards on all types of firearms is warranted. While the nation waits, the debate roles on.
Gun advocates say real gun control starts at home, in the owner's hands. Keeping a gun safe in the home has progressed with a new technology that makes it possible for a gun to recognize its owner as the only person authorized to fire it.
The technology has yet to mainstream, but supporters say the idea works on guns and gun safes. Manufacturers of both have added a layer of security by adding biometric devices their products.
The firearms have fingerprint scanners and fingerprint recognition built into them. This controls who can fire the weapon. The new smart technology works the same as the biometric devices in some laptop computers. Instead of a vulnerable password, a fingerprint scan is required to open the user interface, or fire the weapon.
Several firearms became useless after attempts to remove the biometric devices failed. This indicates the fingerprint scanners work as intended and no one but the registered owner can fire that gun.
Support for this new weapon has yet to make a wave with gun supporters, as they believe the device will take away accuracy and make a weapon too bulky. The new addition will also raise the cost of weapons that cost too much already. The advocates insist this type of safe gun is not going to help.
Gun safes have always been an option to gun safety in homes and for under $ 1000 supporters agree a gun safe is better than a gun ban.
Those who want guns banned entirely argue that gun safes are easily broken into. Making safes safer falls to manufacturers and it is up to retailers like, Sportsman Steel Safes to get the word out about the newest technology in safe construction.
Safe manufacturers advertise gun safes with biometric locks and new methods of entry. Safes are more secure than ever. For around $ 1000, gun owners can secure up to 20 guns. The 2" thick metal walls and jig saw metal doors keep burglars out and safes now come with double lock entry and no-spy lock and key.
Children cannot break into a new safe with new biometric locks or key entries.
Gun control supporters object to the claims that safes keep guns away from children by sourcing news events where children easily break into the safe when their parents are gone.
Gun owners object by citing that gun safe retailers offer a variety of ways to secure both guns and ammunition so the two stay separate. Purchasing a safe that fits inside the gun safe is one way of separating the gun from ammunition.
Both sides agree that educating children and adults on gun safety in the home and implementing new biometric technologies will certainly reduce the number of accidental shootings reported each year.