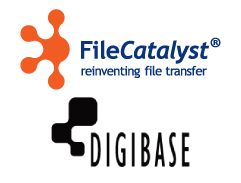 Ottawa, ON (PRWEB) June 17, 2013
Unlimi-Tech Software, the pioneer in accelerated file transfers and the creator of FileCatalyst, the worlds leading accelerated file transfer solution, announces today a value added reseller agreement with Digibase. This partnership enables Digibase to distribute the FileCatalyst suite of accelerated and managed file transfer solutions in Korea, Japan, Thailand and Philippines.
Headquartered in Seoul, Korea, Digibase is a well known broadcasting solutions provider in these markets, optimizing workflows for customers in broadcasting, cable television, corporations, telecommunications, and education and government. The new distributor agreement between FileCatalyst and Digibase enables Digibase to provide its clients with the FileCatalyst platform of accelerated and managed file transfer solutions. FileCatalysts accelerated file transfer technology enables transfers at full line speed, eliminating slow or failed transfers commonly experienced when delivering very large files.
The FileCatalyst platform is a great fit with our existing solutions, especially for the broadcasting and telecommunications markets, says Brian Shin, Sales & Marketing Director at Digibase. FileCatalysts ability to move files at accelerated speeds is essential to many of our clients who are sharing large volumes of content on a daily basis.
Digibase is a very respected broadcast IT solutions distributor in Korea and Japan, providing customers with leading technology and infrastructure, now including the FileCatalyst suite of products, says Alan Atkinson, VP of Business Development at Unlimi-Tech. We are excited to bring FileCatalyst to Asia, specifically Korea and Japan, through this partnership with Digibase.
FileCatalyst is currently exhibiting its suite of accelerated and managed file transfer solutions at Broadcast Asia, the continents largest representative, integrated show for the pro-audio, film and TV industries, taking place at the Marina Bay Sands, in Singapore from June 18 - 21.
About Unlimi-Tech Software, Inc.

Located in Ottawa, Canada, Unlimi-Tech Software is the creator of FileCatalyst, the world's leading accelerated file transfer solution. Founded in 2000, the company has more than one thousand customers in media & entertainment, energy & mining, gaming and printing, including many Fortune 500 companies as well as military and government organizations. FileCatalyst is a software platform designed to accelerate and manage file transfers securely and reliably. FileCatalyst is immune to the effects that latency and packet loss have on traditional file transfer methods like FTP, HTTP or CIFS. Global organizations use FileCatalyst to solve issues related to file transfer, including content distribution, file sharing and offsite backups.
To learn more, visit http://www.filecatalyst.com.
About Digibase

DIGIBASE Co., Ltd is headquartered in Seoul, Korea, with various sales channel & SI partner in Korea and Japan. Over 13 years experience, DIGIBASE have been providing various solution of encoding, streaming & broadcasting for broadcasters, Cable TV operators, education, corporation, Telco & government etc. DIGIBASE is providing full-line of customer service including solution consulting, training, technical support & maintenance.
To learn more, visit http://www.digibase.co.kr.
Find More Tech Press Releases