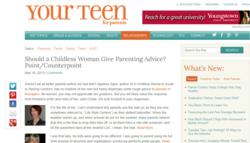 Beachwood, OH (PRWEB) May 31, 2013
With its new feature, Point/Counterpoint, Your Teen Magazine for Parents explores whether adults without kids have any right to advise parents on how to raise their children.
Two women share their viewpoints in Should a Childless Woman Give Parenting Advice? Point/Counterpoint.
Your Teen Magazine for Parents created the feature to prompt parents to think about whether they value or resent the opinions of childless adults.
View the full package here:

http://yourteenmag.com/2013/05/parenting-advice-from-a-childless-woman-2/
We were all perfect parents before we had kids. We all promised that our kids would never behave like those other kids. And then we had our own kids, Editor in Chief/Publisher Susan Borison shares. On the other hand, someone without children has a different and potentially valuable perspective to share. Our package already is triggering adamant discussions about the sensitive subject.
The Point/Counterpoint includes Ageleke Zapis, author of "A Childless Womans Guide to Raising Children" and Julie Cristal, a freelance writer and mom of two who weighs in with her parental rebuttal.
Here are some excerpts:
Ageleke Zapis:

When we were teenagers, we were never let loose at the mall to run wild and act up with our friends. We were at home doing homework or told to spend quality time with our family. (Truth be told, sometimes it was quality time and other times it was quantity time.) As far as my parents were concerned, hitching a ride with my friend Jackie to the mall was never an acceptable option. I was allowed to wander as far as my mothers voice would carry and not an inch further. (For the record, her voice carried down to the end of the block.)
Julie Cristal:

Mostly, I wish those who judge would pull up a chair the next time they see a group of loud, frozen-yogurt consuming teens and learn their backstories. Or visit a school. Most teens today are nothing short of magnificent and it gives me great hope for the future when I spend more than a few hours with several. They are kind and good and creative, using not only traditional artistic mediums, but those that involve crayons being replaced with computers.
About Your Teen Magazine:for Parents
Your Teen addresses the challenges inherent in raising teens and helps parents of teens to continue the journey toward the goal of successful parent. In the magazine format, parents can post questions, offer personal tactics and hear the different perspectives of professionals, other parents and teenagers on relevant topics. Your Teen hopes to ease the worry.
Your Teen is available in Barnes & Noble.
Find More Computer Press Releases