W.J. Deutsch Takes on Luksusowa Vodka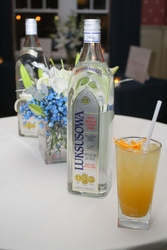 White Plains, NY (Vocus) January 26, 2010
W.J. Deutsch & Sons, Ltd., (Deutsch), a leading importer and marketer of award-winning wines and spirits from around the world, announced today that they have signed a contract with Wyborowa SA to become the exclusive U.S. importer for Luksusowa Vodka, selling and marketing the award-winning potato-based Vodka from Poland to distributors throughout the U.S. market.
Vodka is the #1 consumed spirit in the U.S., selling 55 million cases per year, and the numbers are increasing, explains Deutschs CEO, Peter Deutsch. Following the announcement of our new Spirits Division in July, we immediately began the search for the right partner to supply us with this important category. Luksusowa is an ideal fit for W.J. Deutsch because it is a category leader – the number one selling potato Vodka in the world. Created in 1928, Luksusowa Vodka boasts an 81 year history of premium quality production, and a standard of excellence resulting in consistently high ratings, including a 94 point Gold Medal from the 2009 BTI International Review of Spirits Competition.
Consistent with Deutschs company philosophy of selling premium quality products at moderate prices, Luksusowa Vodka will be sold nationwide at approximately $ 24.99 for the 1.75L, $ 16.99 for the 1L, and $ 13.99 for the 750ml.
The Luksusowa name is derived from the word luksusowy, the Polish word for luxury, referring to the products artisan ingredients, unique distillation process, and the resulting luxuriously smooth taste that is synonymous with the brand. Only the finest grade of potatoes, including Pasat and Rudawa potatoes from Wielkopolska and Pomorze – the best growing regions in Poland are used in the production process. A custom-designed triple filtration system of continuous distillation is used in conjunction with an advanced gas chromatography system to produce the purest potato spirit. This spirit is combined with natural spring water from deep artesian wells to produce Luksusowas rich, smooth, award-winning Vodka.
Victor Jerez, CEO of Wyborowa SA, says: Luksusowa is a fantastic brand with an authentic pedigree and tremendous long-term growth potential in the U.S. – the number one vodka market worldwide. Through our partnership with W.J. Deutsch, we will be able to capitalize on Deutschs sales and marketing expertise, strong network of U.S. distributors, and on and off-premise relationships, and together grow Luksusowa into one of the leading imported Vodkas in the country.
About W.J. Deutsch

W.J. Deutsch & Sons, Ltd. was founded in 1981 by Chairman Bill Deutsch to market quality wines produced by prestigious families from major wine regions of the world. Deutschs wines and spirits are sold to the trade with well-planned marketing support and offered to U.S. consumers at fair market prices. Today the company is renowned for its brand building prowess and ability to meet the needs of the modern consumer. Bills son Peter Deutsch is CEO; thus two generations of the Deutsch family work side by side in their continuous quest to build strong brands and relationships throughout the wine and spirit industry.
The W.J. Deutsch & Sons portfolio includes award-winning wines from Australia: [yellow tail], [yellow tail] The Reserve, [yellow tail] Sparkling; California: Atlas Peak, Buena Vista Carneros, Esser Vineyards, Gary Farrell Vineyards and Winery, Geyser Peak, XYZin, Kunde Estate; France: Andre Lurton, Georges Duboeuf, Hob Nob Vineyards, Pierre Sparr, Sauvion et Fils, Vidal Fleury; Idaho: Ste Chapelle; Italy: Barone Fini, Castello di Monastero, Coldisole, Poggio alle Sughere, Lionello Marchesi, Villa Pozzi; New Zealand: The Crossings; Portugal: Quinta Do Vale Meao; Spain: Mar De Frades (Rias Baixas), Cruz de Alba (Ribera del Duero), Ram