Vela Research Presents Breakthrough Solution for Ensuring Video Quality & Integrity of Content Aimed at Broadcast, Cable, Content Creation, VOD, IPTV & Post Production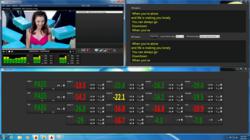 Clearwater, Florida (PRWEB) March 27, 2013
Vela Research announced its ArgoNavis QC/QA System designed to give operators the confidence that the high value and unique content and programming they deliver to their loyal customers and viewing public is free of errors, glitches and flaws. The ArgoNavis QC/QA System is a powerful, agile and advanced professional HD/SD system with the ability to support multi-format, multi-screen content ranging from extremely high bitrate mezzanine content down to bandwidth-economizing content for mobile devices – and everything in between.
The ArgoNavis QC/QA System enables users to automate the process of performing quality control/assurance on files containing content in different formats, resolutions, frame rates and bitrates – in faster-than-realtime. Operators can perform comprehensive checks for video and audio characteristics and properties – as well as performing detection, decoding, parsing, extraction, recording and archiving functions on the content.
The extensive quality checks include verification of SDI and VANC data, Closed Captioning data, MPEG parameters, frame integrity (black and freeze frames), Digital Program Insertion, audio levels, missing audio and LKFS/loudness measurements as well as audio and video metadata. The system can be set up to generate alerts as the verification is done, as well as to create logs and notify essential staff when pre-defined events such as incidences of non-conformance or non-compliance are encountered in any of the files being processed. The ArgoNavis automatically generates (and can disseminate) extensive logs and records of measurements and data collected during the QC/QA process.
The major suites of functionality of the ArgoNavis QC/QA System include: