The Nisca PR-C201 is Now Available at ID Wholesaler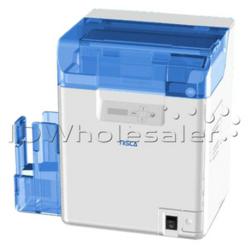 Chanhassen, MN (PRWEB) May 29, 2013
ID Wholesaler, the largest retailer of photo identifications products, has added a new ID card printer to their line-up of photo ID equipment. The new Nisca PR-C201 retransfer printer is ideal for organizations needing durable, multi-function ID cards.
For superior print quality on any card type, the Nisca PR-C201 dual-sided ID card printer features retransfer printing. Cards printed on a traditional dye sublimation printer come in direct contact with the printhead which can affect image quality. The PR-C201, on the other hand, prints images on retransfer film that is then fused to the card with heat and pressure for flawless printing on any surface. With this, the printer can print over the edge of cards and to a wider variety of card surfaces including proximity cards, smart cards, pre-punched cards, and key tag cards.
The PR-C201 card printer is as easy to install and operate as a traditional office printer. An LED control panel offers notifications, such as when the printer needs cleaning, has an empty feeder, or is approaching the end of the ribbon. The Nisca PR-C201 is also fast, printing up to 160 cards per hour at 600 dpi, 24-bit color. To support this demand, its large input and output hoppers hold 250 cards each.
The PR-C201 offers built-in USB and Ethernet connectivity for operating a card printing program on multiple computers on a shared network. Optional magnetic stripe or smart card encoding capability can be added to the PR-C201.
In addition to the dual-sided Nisca PR-C201 printer, ID Wholesaler also offers an exclusive bundled Nisca PR-C201 ID system that includes ribbon, retransfer film, cards, software options, and camera options. This provides everything an organization will need to get start making cards in one box. A 2-year warranty that includes printhead coverage is included with the Nisca PR-C201 printer. ID Wholesaler also offers extended warranty and printer loaner options for those looking for additional coverage.
To learn more about ID Wholesaler or the new Nisca PR-C201 retransfer ID card printer, visit http://www.IDWholesaler.com or call an ID Professional at (800) 321-4405.
About ID Wholesaler

ID Wholesaler is the largest online retailer of photo identification products, serving its clients with guaranteed lowest prices, expert advice, and free support on everything they sell. ID Wholesaler stocks a broad selection of ID card printers and systems, ID software, supplies, and badge accessories from the leading manufacturers. For more information, visit http://www.IDWholesaler.com.