The Georgia Tech Carbon Neutral Energy Solutions Lab Team Named Builders of the Year by Gilbane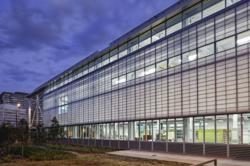 Providence, RI (PRWEB) May 07, 2013
Each year, some of the most outstanding teams and individuals within Gilbane are honored with national awards in teamwork, safety, innovation and excellence. The most coveted award Gilbane presents is the Iver Johnson Builders of the Year, which is given to the team that delivers quality, safety, client satisfaction, teamwork, sustainability and much more. This years award goes to the the Carbon Neutral Energy Solutions Laboratory (CNES) at the Georgia Institute of Technology.
Georgia Techs CNES Lab sets a new standard for sustainable design for buildings of its type by optimizing passive energy technologies, reducing electricity loads, and maximizing the use of renewable energy. The design build team of Gilbane and HDR worked within a tight budget and aggressive schedule to get this LEED Platinum lab successfully delivered.
The CNES team really exemplifies what the Builders of the Year award is all about, says Thomas F. Gilbane, Jr., chairman and CEO. Our team, together with HDR, fully engaged with the owner and evaluated all options to reach Georgia Techs aggressive energy efficiency goals while staying on target for budget and schedule. In the end, we have a state-of-the-art facility that would not have been possible without the innovative decisions and dedication of this team.
The design-build team coined the phrase, Integrated Design for Value Process as its philosophy to the project. This meant the project involved: